Election 2019, the Liberals: Unique Strengths vs. a Weak Opposition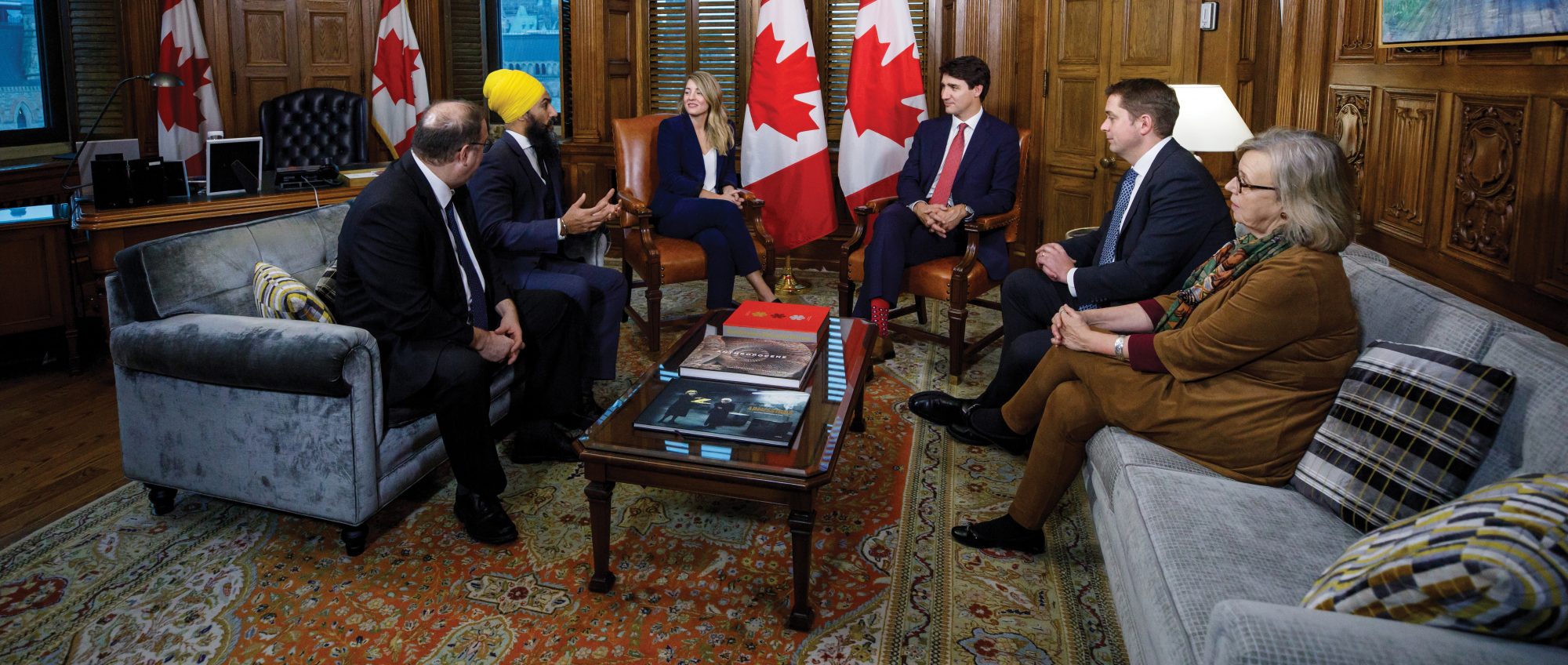 With less than a year to go until the 2019 federal election, the conventional wisdom has it that the race will be Justin Trudeau's to lose. Veteran Liberal strategist Patrick Gossage, who served Trudeau's father as press secretary, looks at the strengths and weaknesses of the field as it stands, and which variables could shift over the coming months.
Patrick Gossage 
Going into this election year, the Liberals may prove to be the beneficiaries of a divided Conservative vote on the right, and a shrinking NDP vote on the left. The relative weakness of the two main opposition parties looks to strengthen the Liberals' hold on the progressive centre, where elections are usually won in this country.
The Liberals also enjoy the advantages of incumbency, including the prime minister's standing on the world stage. 
For example, Justin Trudeau's one-on-ones with world leaders during the G20 in Argentina in early December highlighted an incumbent's advantage in leveraging foreign policy issues for positive resonance at home, not just with his Liberal base, but with voters at large.
It played well at home that Trudeau spoke to Russian President Vladimir Putin on the capture of Ukrainian vessels and to Saudi Crown Prince Mohammed bin Salman on the murder of journalist Jamal Khashoggi, the incarceration of Raif Badawi and the war in Yemen. 
And then there's an important electoral attribute in which Trudeau enjoys a significant advantage over his opponents—his retail game on the campaign trail. Canadians saw this in 2015 and will be seeing it again in the fall of 2019.
Politics also abhors a vacuum and with the defected People's Party Leader Maxime Bernier, neo-conservatives now have somewhere to go. It is possible that this brand of populist conservatism may appeal to as many as 15 per cent of the Conservative core vote, although in a Nanos-CTV poll in December, Bernier's People's Party polled at less than 1 per cent. However, its potential under a well- organized and funded Bernier could split votes away from the Conservatives to the benefit of the Liberals, especially in Ontario. 
Ontario Premier Doug Ford's bungling of Francophone affairs and Conservative Leader Andrew Scheer's awkward ambivalence on the situation only stands to reinforce Liberal dominance in the province, as well as in Quebec. 
Add to that an NDP that has lost its way under the notably absent Jagmeet Singh and we are looking at a rare political landscape of two weak opposition parties. Which is not to say that Conservative Leader Andrew Scheer and Singh can't surprise to the upside. Low expectations could work to their benefit.
The premiers who lined up for the cover of Maclean's last November against the carbon tax are also a potential foil since Liberals have defined the climate change issue for Canadians and none of these premiers, particularly Ford, have put plans in the window that match the simplicity or generally agreed effectiveness of the federal "tax polluters" approach. Ford's environment minister, Rod Phillips, did release a plan at the end of November to meet the 30-30 targets of the 2015 Paris Accord, reducing emissions to 30 per cent below 2005 levels by 2030. However, as Phillips acknowledged, Ontario had already reduced emissions by 22 per cent under the previous Liberal government at Queen's Park.
Ford, who has made Scheer appear to be a minor player at his side, may also prove to be a polarizing figure come election time. His government's direct attack on the poor, on minimum wage workers, on migrants and the marginalized may in fact motivate liberals and moderates. 
Centrist politics, long the winning lane in Canadian politics all other factors being equal, does indeed seem threatened. But Trudeau will run on inclusion, not division. He will fight right-wing, anti-immigrant sentiment, preposterously licensed by Donald Trump's continued ranting. It has found a new ally in Scheer, who seems to feel he is on to a defining issue and tweets, in near-Trumpian fashion, accordingly.
In a recent Public Square Research poll only 10 per cent of respondents listed immigration as a concern. The Liberals know that most Canadians are open to all kinds of immigration—so many having been directly involved in bringing over Syrian refugees. It's unlikely the Conservatives are on to a major election issue here. 
The issues of youth unemployment and indigenous living conditions seem to be reduced as threats to the government—although both are far from solved. The youth vote will have to be worked on again since it played so strongly in the 2015 victory. However, again the opposition leaders have little to offer either in appeal or platform to threaten the genial and appealing Trudeau.
The other issue that the opposition has not found a way to exploit is the one that sank Kathleen Wynn—a tendency among Liberals to lecture the public and tell them what to think. Never a tactic employed by my old boss, Pierre Trudeau. His Liberalism was all about expanding choices. The core strategy that Doug Ford pumped away at was hammering the "elites and left-wing radicals" and speaking to bread and butter issues the "people" cared about. However, Scheer has not yet found a way to connect as the real opposite of Justin Trudeau, whose star quality remains a formidable asset.
The Liberals do have their share of broken promises, notably on electoral reform and balancing the budget by 2019 after three years of stimulative deficits. Trudeau ditched electoral reform and a budgetary balance is nowhere in sight. But neither resonates as a ballot box issue.
Finally, it is hard to predict what events and issues may arise in the next months to threaten the Liberals. So far, there have been few real gaffes and a few big wins. While the U.S.-Mexico-Canada Agreement was a major accomplishment it is not a done deal until passed by the legislatures of all three countries and may not be something Liberals can take to the bank months from now. 
The sad financial situation of once-rich Alberta unable to get its oil to market has taken the Liberals as far as they can go since the government now owns the pipeline that will solve the problem and are trying to get it built.
There is little electorally for the Liberals to gain in Saskatchewan or Alberta in even the best case, and nationally blaming the Liberals for the collapse of oil prices and a reduced future for the oil sands industry does not have a lot of traction. It's like Premier Ford's witless blaming Trudeau's carbon tax for the closing of GM's Oshawa plant. In any case being pro-pipeline and pro-carbon reduction does smack of inconsistency but is not a problem the opposition can easily attack. 
The other question worth pondering is the role of the media, including social media. Trudeau completely dominates social media. Some of his Facebook posts get a million views. Scheer's negative attitude to media while Trudeau announces a fund to help sustain reporting could not provide a greater contrast.
Obviously, the media will not be bought. But the press gallery, which sets the media agenda nationally simply have not been provided with enough meat by the opposition parties to even begin to reduce the space the activist Liberal government occupies. The public does not pay a lot of attention to the endless bickering and attacks that dominate question period, and this seems to be where the Conservatives devote most of their energy. Granted, it is smart not to put out a detailed platform too soon but to get more attention sooner than later will take a lot more than the Conservatives endlessly saying what they won't do. 
The only time Trudeau's popularity took a real hit in the polls was following his overdressed India trip. The Liberals would do well to watch out for this kind of hubris or arrogance. It's been called the Liberal kryptonite.  
Patrick Gossage was press secretary to Prime Minister Pierre Trudeau from 1976-82. He is the author of Close to the Charisma: My Years between the Media and Pierre Elliott Trudeau, and founding chairman of Media Profile, a Toronto media consulting and PR firm.