'Dearly': Margaret Atwood on Love, Loss and Longing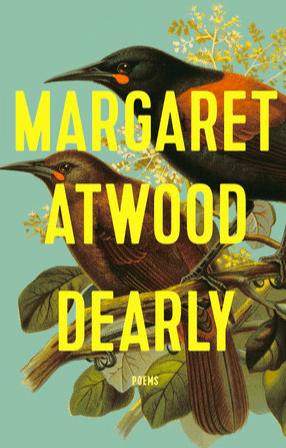 By Margaret Atwood
McClelland & Stewart / November 2020
Review by Meredith Wilson-Smith
April 20, 2021
Across her vast body of work, Margaret Atwood's writing operates at a low simmer: the building heat of her careful words isn't obvious to readers until, suddenly, their emotional temperature triggers an overflow.
That's certainly true of the acclaimed writer's newest poetry collection, Dearly, which appeared in November 2020, more than 10 years after her last book of poems.
Dedicated "in absentia" to Atwood's longtime partner, Graeme Gibson, who died in 2019, Dearly is a collection quietly devoted to absence, loss, and renewal.
This is apparent in "Zombie," where she includes an epigraph by Rilke neatly summarizing not only the poem but the collection as a whole: "Poetry is the past that breaks out in our hearts."
One of Atwood's great strengths is her mastery of a wry distance – implicit in using another poet's words to capture her meaning.
Dearly is, at its core, a deeply poignant collection. While it touches on subject matter ranging from passport photos to ancient Greek priestesses, Atwood's narrower poems are especially touching.
For instance, "Ghost Cat" dissects the heart-tugging inevitability of the loss of one's memory, synthesized in a creature too small to understand – the author's cat who, like Gibson, suffered with dementia.
The cat takes bites from fruit left out overnight, wailing and clawing at shut doors, begging to be told who she was. The writer instructs, "When I go that way […] no matter who I claim I am / or how I love you, / turn the key. Bar the window."
According to Atwood, Dearly's poems were written over a period of a decade. All of the poems about Gibson in the book were written before he died. That experience aligns with a central theme in Atwood's collection: that of the blurred lines between grieving a loss and honouring the life that came before.
Despite this, the collection is unpredictable in the poems' movement, tenor, and, often, humour. As such, Dearly can be read in a number of ways for its thematic organization.
In Atwood's own explanation in a Toronto Star interview, the book is split into five delineated sections. The first section is, fittingly, "sort of the intro to things fading away," filled with poems like "Ghost Cat" and "Salt," which defiantly queries the Biblical caution not to look back at one's past lest, like Lot's wife, you should turn into a pillar of salt. Atwood asks, "Why not look? / Isn't it glittery? / Isn't it pretty, back there?"
The second section of the book addresses "gender issues, including slugs" – though more creepy-crawlies worm their ways into the subject matter. "Cicadas" is a tender poem about the "yammer of desire" in two cicadas' "annoying noise of love."
These mini-collections exemplify the two threads running throughout Dearly: one poetic, one polemical. Personal and global subject matter run alongside and into one another, as inextricable in the text as they are in reality.
The writer beautifully captures the power of longing in the eye (and voice) of the beholder: "This is it, time is short, death is near, but first / first, first, first / in the hot sun, searing, all day long, / in a month that has no name."
The collection's third section explores supernatural metaphors. In the aforementioned "Zombie," Atwood dryly outlines the ghoulish apparition of "poems about/the dead one who isn't dead" for those who want the past back and then regret its return to their minds "like a virus, like an infection."
Her continued balance between past and present is semi-comical in "Zombie," comparing a poem's entrance into one's head to a Grim Reaper with "the hand on your shoulder" – "Poetry, coming to claim you."
Those metamorphic themes carry forward into the fourth section about nature transformations. In "Table Settings," Atwood uses this space to explore how humans impact nature: "We sit around it / chew it into rags / with our artful fangs and talons," triggering change without much intention or thought.
This theme, however, is best seen through the second of two smaller suites of poems within Dearly that work as collections within the greater book. Both explicitly focus on broad, urgent themes: in Section II, the first, "Songs for Murdered Sisters," considers male violence against women. The second in Section IV, "Plasticene Suite," discusses human destruction of nature and the environment.
These mini-collections exemplify the two threads running throughout Dearly: one poetic, one polemical. Personal and global subject matter run alongside and into one another, as inextricable in the text as they are in reality.
Similarly, as the ideas of past and present are explored, the fifth section is, in Atwood's words, "basically about Graeme fading away and dying." The title poem, about words facing extinction, is a clear instance of that: "It's an old word, fading now. / Dearly did I wish. / Dearly did I long for. / I loved him dearly."
She moves to consider other words on the brink of vanishing: Polaroid, newspaper, sorrow. Just as the author mourns Gibson, she mourns the loss of words to describe "how we used to live."
The power of words emerges time and time again in this collection. Readers are exposed to just how slippery meanings can be, and how they shift depending on a reader's state of mind and frame of reference. That masterful meta-textualism draws attention to how deeply poetry's meaning is impacted by the poet's own context and purpose, making the collection all the more personal to both writer and audience.
The book is stirring to the point of uplifting readers – not because of any cheery context, but rather for the strength of Atwood's universal themes and their articulation through the juxtaposition of mystical imagery with moments of quiet reflection.
In the end, Dearly is the definition of a collection: the poems can be sorted through and categorized at will, like old photographs.
And, in Rilke's prescient words, as readers make their way through each poetic vignette, just like old photographs, they may find themselves surprised by the extent to which Atwood's words trigger intense sentiment that builds to break out in their hearts.
Meredith Wilson-Smith is an incoming JD candidate at Osgoode Hall Law School, a former editor at The Globe and Mail, former editor in chief of The Queen's Journal, and a recent graduate of Queen's University.