Creating an Inclusive Innovation Economy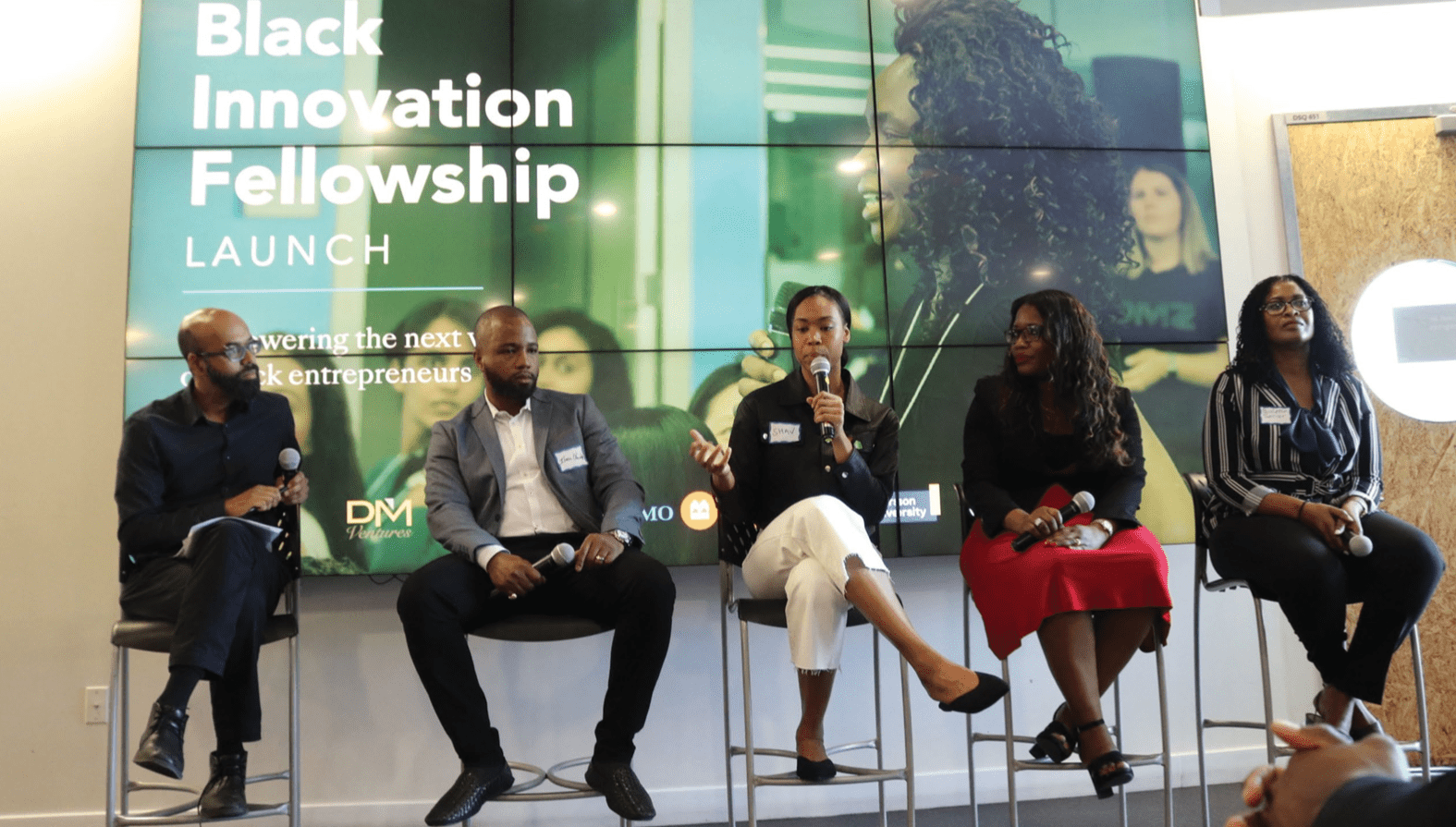 In business, as in everything, inclusivity begins with representation. The Ryerson DMZ start-up incubator launched its Black Innovation Programs to eliminate race-based barriers to Black innovators and entrepreneurs. Those programs will be all the more crucial as the innovation economy emerges from the COVID lockdown.
Abdullah Snobar
The innovation economy has been accelerating on an upward trajectory in Canada. In 2020, we experienced our second-highest level of venture capital investment on record, and we had a 20 percent increase of startups on track to become unicorn companies.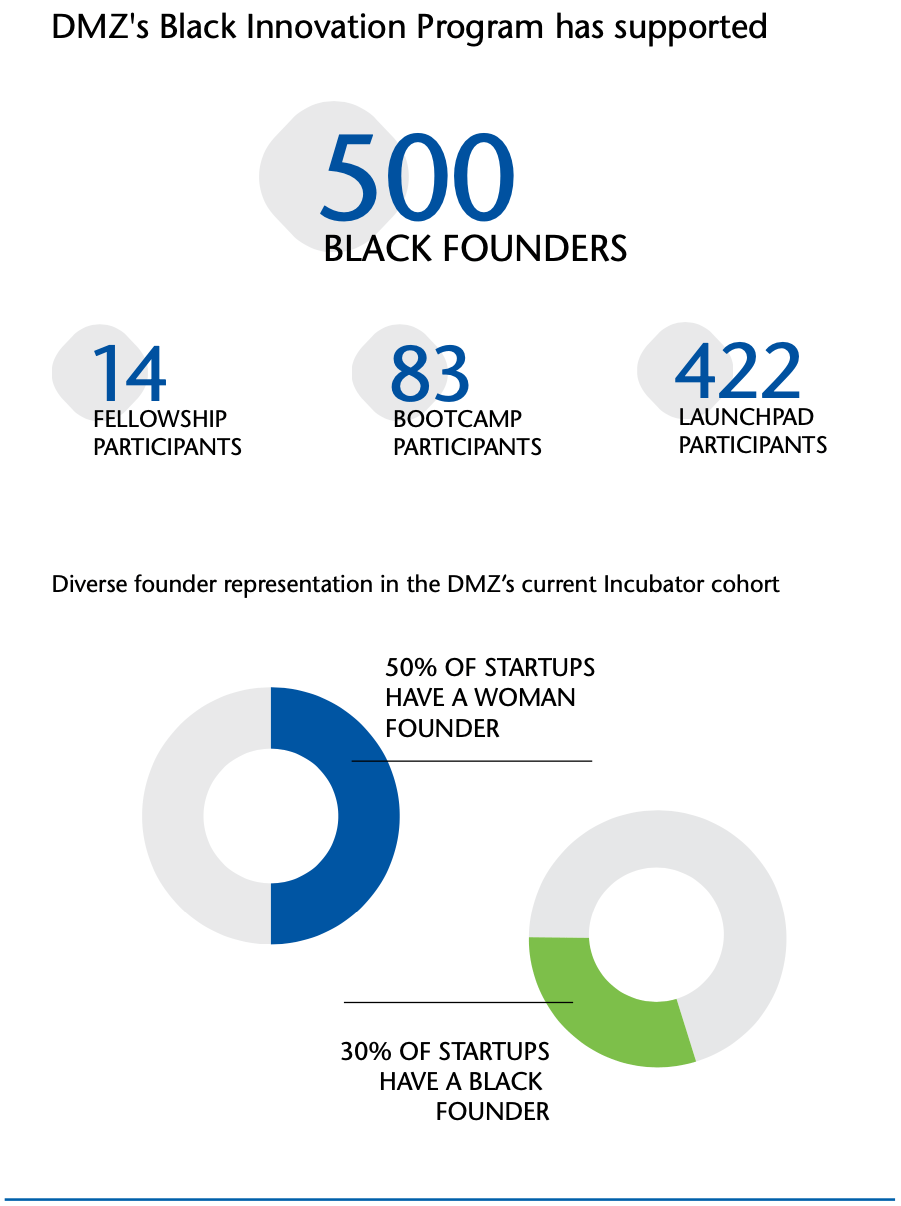 We are entering a golden age for the innovation economy, with our momentum doubling down on our previous successes. However, in order to leverage the golden age, we need to be truly inclusive with our efforts and ensure we're not leaving anyone behind. Our innovation ecosystem needs to make decisions intentionally; we need to remove barriers for underrepresented groups who want to break into the ecosystem and we must expand our reach. Underrepresentation of Black founders and Black leadership has been a longstanding issue in the ecosystem, as Black founders encounter steep challenges when starting and growing a business. Black founders don't lack the talent needed to secure entrepreneurship opportunities; they lack access to those opportunities: access to mentorship, learning opportunities and capital.
Recognizing this gap in support specifically for Black founders, the DMZ launched its Black Innovation Programs (BIP) in 2019 to make an impact, see growth in the number of companies owned by Black entrepreneurs and break the perpetual cycle of inequity. As we look ahead and implement innovative strategies for our economic and social well-being, I have come to appreciate a few fundamental learnings on how we can be more inclusive. 
First of all, there's no lack of Black tech talent; what we're missing is a pipeline. Historically, Black founders have experienced barriers when it comes to accessing support programs, venture capital and potential customers, which has resulted in a lack of Black innovators in the ecosystem. This problem cannot be solved with merely one solution, nor one program. To ensure Black innovators have the opportunity to break into the ecosystem and succeed, we need to support their entrepreneurial goals at every step of the way. 
If we don't support Black youth when they become curious about starting their own business, how can we expect them to become competitive innovators? Nurturing their curiosity and providing them with the resources they need is imperative to fostering a pipeline of Black tech talent. Recognizing this gap in support for aspiring Black entrepreneurs, the DMZ expanded its programming to offer more support at the early stages of the entrepreneurial journey. The Black Innovation Launchpad is a free skills development platform that equips aspiring Black founders with the personal and professional skills needed to kickstart the entrepreneurial journey. The Black Innovation Bootcamp gives early-stage Black founders at the DMZ an additional layer of free startup support to validate their business idea and build a roadmap for implementation. Once the startup has launched a minimum viable product and is gaining early market traction, the founder can join our Incubator and access our Black Innovation Fellowship. This program gives Black-led startups in the DMZ Incubator enhanced benefits in addition to what other companies receive.
To date, BIP has supported over 500 Black founders: 422 Launchpad participants, 14 Fellowship participants, and 83 Bootcamp participants. The incredible demand we saw for these programs, two of which launched less than a year ago, highlighted not only the gap in the ecosystem and absence of a pipeline, but also the sheer appetite Black founders had to excel. 
Secondly, investing in Black entrepreneurs will not only help eliminate the wealth gap—it will reinforce Canada's position on the global stage. Access to funding hasn't been a simple feat for early-staged founders in Canada. Seed deals have slowed down significantly as the focus has shifted to later stage deals, leaving founders in a difficult position to hit the ground running. 
This issue is even more apparent for Black founders. Racial bias from banks has been a longstanding issue. Studies have shown white and Black loan applicants receive different treatment in how banks encourage them to apply for loans, the products they are offered, and the information they receive. Black business owners with great personal credit are half as likely to receive full financing compared to their white counterparts. Insufficient access to capital leaves many Black entrepreneurs less economically mobile and limits the potential of entrepreneurship and impact to grow wealth for Black communities. COVID-19 has even further stressed Black communities and caused the racial wealth gap to widen. Now more than ever, it's crucial we continue to invest in our startup talent—particularly Black talent—to continue the momentum we've created within the ecosystem. We must commit to doubling down on their growth trajectory so we can continue to generate top-tier tech businesses. 
Through BIP, we've already been able to bring hundreds of Black entrepreneurs to the forefront—nearly 100 Black-owned startups through our core programming, and over 400 Black early-stage and aspiring founders through our Launchpad platform—and we're committed to ensuring startups are well-positioned to receive the capital and resources needed to grow and scale. 
Third, community and mentorship can elevate Black founders.
In the business world, you'll often hear "it's all about who you know." Creating new business connections allows founders to meet prospective mentors, partners, and clients, and gain access to the necessary resources that can help foster their startup development. But if there aren't leaders and mentors in your network that look like you, making lucrative business connections becomes challenging. Sociocultural barriers aren't always obvious, but they're still very real and destructive to success. 
That's why improving representation of Black individuals in leadership roles can help Black entrepreneurs connect with the right mentorship and overcome sociocultural barriers. Unconscious bias greatly impacts mentorship. As humans, we tend to gravitate towards mentoring people who are similar to us. The tech world has been predominantly white and male for so many years—Big Tech is struggling to create truly diverse teams, and this is still very much in line with the inequities present in startups. Organizations across industry need to commit to building inclusive executive teams, and management needs to consciously foster the careers of Black individuals. By building the right ecosystems, we can negate the structural obstacles to business building for Black entrepreneurs and add $290 billion in business equity. 
Furthermore, we must create more formal mentorship networks with better Black representation. Through BIP, we hope to initiate a chain reaction with our founders. As they move through the program and experience success, they will be able to mentor new aspiring entrepreneurs and share lessons learned. 
At the DMZ, we live by three values: Equity Over Everything, Founders First, and Be Great. Across all of our work, we stay true to this. Diverse representation in the innovation ecosystem is crucial, which is why we're intentional with our recruitment efforts to build an inclusive talent pipeline (in our current Incubator cohort, 30 per cent of startups are Black-founded and 50 per cent are women-founded). We strive to reach founders from across Canada who represent diverse backgrounds and experiences, and have amazing potential. Everything we do, we do to elevate our founders. 
Creating an inclusive innovation ecosystem is imperative to Canada's future successes. We have the potential to set the bar on a global scale, and we can only do so by working together. We know tech developments and innovation are key to our economic growth, and bringing an inclusion lens into the innovation ecosystem is both feasible and necessary to create a high functioning ecosystem that works for everyone.  
Abdullah Snobar is Executive Director of the DMZ tech incubator at Ryerson University.