Collective Rage Requires Collective Action
"Until we see accountability from police, people will continue to feel forced to take the law into their own hands. Until we see reactions of non-violence from police towards Black people, we will continue to see violence erupt, mirroring systemic violence."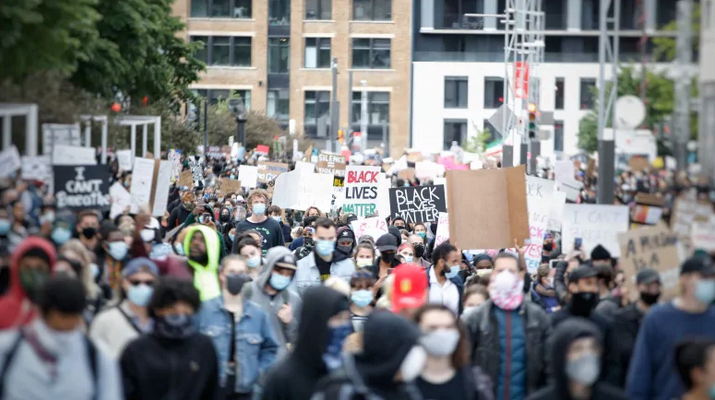 Radio-Canada
Senator Wanda Thomas Bernard
June 3, 2020
Many Canadians seem to find a sense of comfort and safety in discussing anti-Black racism at arm's length. When I hear media and people in conversation make a distinction between current events in the United States and race relations in Canada, I cringe. In our country, I see a preference to discuss the strengths of multiculturalism and diversity in contrast with American politics and blatant acts of violent racism. Colonialism, anti-Black racism and white supremacy do not respect borders. I am reminded of the daily racism that I experience in Canada, ranging from passive-aggressive comments to outright denial of service. When I recount my experiences as a Black woman, I am often met with shock and disbelief, which results in a feeling of invisibility and a denial of my reality. I heard this same tone of shock as people reacted to the video of George Floyd being killed by police in Minneapolis on May 25, 2020. I know his cries for help were not unheard, they were just ignored. I see the clear parallel as the cries from African Canadians are also not unheard, just ignored.
Many African Canadians have family and friends who live in the cities where protests are happening in the United States. Whether the connection is by blood or by common experience, the affinity we have with each other comes from our shared ancestry. They are our brothers and sisters. The strength of people of African Descent is enormous. We have survived until this point, but we are tired. Witnessing racism in media creates a ripple of collective pain through all people of African Descent. Collective pain requires collective action.
Canada seems to be stuck in a state of non-action or insufficient actions. This cycle of non-action is enabled by continually occupying a state of shock and disbelief despite the continuous stream of new deaths, violence and injustices. As Angela Davis said, "it is not enough to be non-racist, we must be anti-racist". That is also true for remaining in a state of non-action. Remaining in a state of non-racism and non-action, at this point, is as harmful as racism itself. This is known as the bystander effect. In 2018, Prime Minister Trudeau acknowledged the United Nations Decade for People of African Descent. The Government subsequently allocated funds for Black communities in the 2018 and 2019 budgets, but change continues to be very slow. Despite these allocations, I hear from many grassroots community groups that they face barriers accessing funds. Black Canadians need support and resources to address years of neglect and indifference. Despite hearing from several senators on the many forms of anti-Black racism impacting Canadians during the anti-Black Racism Inquiry in the last Parliament, other political leaders continue denying that Canada has a history of systemic racism. Denial and ignorance enable the violence that results in our deaths.
"That anger is often internalized and can erupt to a state of absolute rage. I often feel rage and have turned it into action. Over the years, I have strategically used my rage to fuel my activism work

."
George Floyd was murdered by police officer Derek Chauvin and three of his colleagues as witnesses stood by watching and filming it for 8 minutes and 46 seconds. This video has fueled an international rage. People of African Descent have been expressing this same rage for hundreds of years in many different forms, and yet it often goes ignored. Not only do we experience violence in ways as tangible as seen in the video of George Floyd's murder, we experience violence through more subtle forms of racism. Both types of racism are killing us. From 2002 to 2010, I led a team of researchers who examined the impact of racism and violence on the health of Black men, their families and communities in three Canadian cities. We heard from Black Canadians about the detrimental toll racism-related stress has on their lives. This racism-related stress is caused by the cumulative impact of blatant acts of racism, consistently being underestimated and undervalued, and over-criminalization.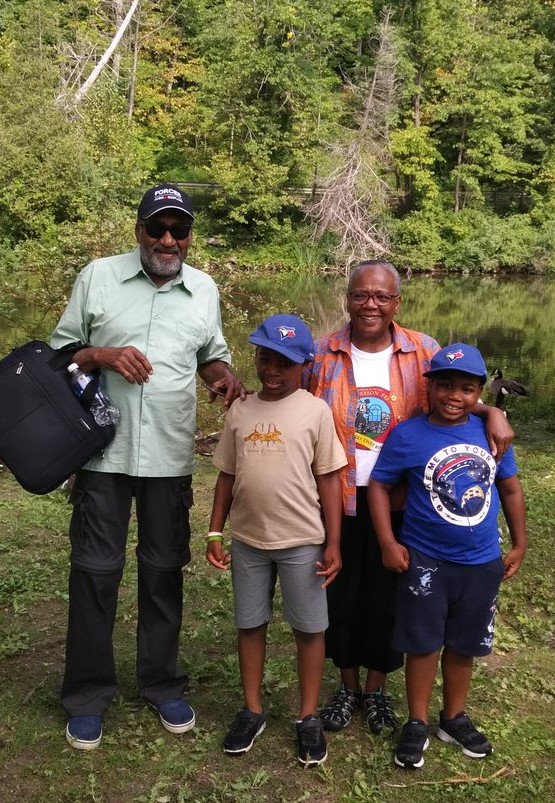 Senator Wanda Thomas Bernard with her grandsons and her husband, George Bernard,
at the Owen Sound Emancipation Festival
This burden has serious health consequences for our communities. We experience this violence daily, in addition to the physical violence seen in recent videos that have finally woken up the world to our reality. There is a deep anger felt by Black people in response to racism. When that anger goes unexpressed, it remains unnamed and unacknowledged. That anger is often internalized and can erupt to a state of absolute rage. I often feel rage and have turned it into action. Over the years, I have strategically used my rage to fuel my activism work.
The rage of protesters is the same rage. It is real, and it is warranted. Until we see accountability from police, people will continue to feel forced to take the law into their own hands. Until we see reactions of non-violence from police towards Black people, we will continue to see violence erupt, mirroring systemic violence. What we are seeing now is an expression of rage in the fight against racism. Black people are exhausted and frustrated.
As an African Canadian, mother, wife, and grandmother of two young Black boys, I bear the burden of stress and worry of 'living while Black'. This stress is for myself, for my community, for my family, especially for these two boys who are quickly growing into Black men. Too often when I see Black men depicted in the news; they are being killed, or they are framed as a threat for simply existing. Many African Canadians consistently share similar stories with me about their daily experiences. This is why the message is urgent: Black Lives Matter.
On May 28, 2020 in Toronto, Ontario, a young Afro-Indigenous woman named Regis Korchinski-Paquet was killed when she fell from her apartment balcony on the 24th floor. Her family had called the police because she was in mental health distress. How does a woman in distress calling for help end up dead? The death of Regis Korchinski-Paquet tragically unites the injustice of Missing and Murdered Indigenous Women with Misogynoir, a phrase coined by Moya Bailey representing the intersectional experience of Black women; misogyny compounded with racism. Regis' family is looking for an answer for what happened to their daughter, and African Canadians are filled with rage and sorrow at the loss of our sister.
As I lie awake at night worrying about the prolonged violence endured by people of African descent, I reflect on when I have had this feeling before. Was it earlier this year when Breonna Taylor was killed in her own apartment? Or was it in 1968, hearing the accounts of the riots after Martin Luther King Jr. was killed? Was it ten years later, in 1978, when Buddy Evans, a young man with roots in East Preston was killed by Toronto police who were later exonerated? Was it 14 years after that, in 1992, during the riots incited by the acquittal of the police officers who assaulted Rodney King? Was it 22 years after that, in 2014 after the death of Michael Brown? I ask myself what has changed since these events, what have we learned, and what needs to happen now. I repeatedly hear leaders say that "we must do better" but at this point, those words feel empty as we find ourselves back in this place of collective grief because more of our brothers and sisters have been taken from us so violently. "We must do better" is not a commitment to change. What we need to hear is who will take action, and how will they do it? Black communities, Black youth and Black leaders are ready for change. We have been ready, and we need partners in action, not just in words. We need collective action.
"The violence and looting are not about Mr. Floyd's murder as an isolated incident, because his death was not an isolated incident. This is about the white supremacy and systemic racism that enabled his death, and so many others."
Since the middle of March, my mind and work have been occupied with the knowledge that African Canadians are more susceptible to COVID-19. This is due to higher rates of pre-existing health issues, as we know racism-related stress takes a toll on health. This vulnerability is also due to an increased exposure to the public, as there are a higher number of African Canadians who are employed in essential services. I have been advocating for the Canadian Government to collect accurate data disaggregated by race in order to fully grasp this racial inequity and equip Black communities with supports. As I watch videos and news coverage of the protests erupting in American and Canadian cities in response to George Floyd's death, I worry about the impact gathering in crowds will put on our already vulnerable community. CNN's The Color of Covid highlights the disparities in America we already knew existed. We do not yet know the full extent of the impact this pandemic is having on Black lives in Canada, but we do know the "pandemic of racism" is proving to be more deadly than COVID-19.
Ahmaud Arbery was killed by former police on February 23, 2020 in Brunswick, Georgia. Breonna Taylor was killed by police on March 13, 2020 in Louisville Kentucky. George Floyd was killed by police on May 25, 2020 in Minneapolis, Minnesota. All three of these deaths by police occurred during the time of this pandemic, and each of those killed were not violent. Even if they had been violent, intervention from police should not default to ending their lives. This deadly double standard reinforces the genocidal myth that Black lives don't matter. We are met with violence regardless of what we do, or how we act, simply for being Black.
This is why Black people are protesting that Black Lives Matter and why peaceful protests erupted into violent raids and looting in Minneapolis and many other US cities. The violence and looting are not about Mr. Floyd's murder as an isolated incident, because his death was not an isolated incident. This is about the white supremacy and systemic racism that enabled his death, and so many others. We are seeing pent up anger fueled by generations of systemic injustices that have finally erupted into rage.
African Canadians are experiencing a cumulative exhaustion and rage that is a consequence of the collective perspective that Black lives are expendable in Canada and the United States. The exhaustion and rage are an intergenerational reaction to hundreds of years of historic and current oppression, and messages that Black lives do not matter. Our ancestors were ignored, and we have been ignored, which is why our rage is real, and warranted. Black Lives Matter.
Senator Wanda Thomas Bernard is an Independent Senator from East Preston, Nova Scotia. As the first African Nova Scotian woman to be appointed to the Senate, Senator Bernard advocates for reparations for the historic and continued anti-Black racism impacting the lives of African Canadians. You can follow her on Twitter @SenatorWanda.