Climate Change and Clean Energy Solutions—Nuclear Leadership in Electricity
While the COVID pandemic presents one health and economic challenge, so does the climate change crisis, in Canada and worldwide. Canadians are well aware of the situation and widely supportive of clean energy solutions. Canadian Nuclear Association President John Gorman makes a case for nuclear electricity.
John Gorman
March 29, 2021
While we continue to navigate our way through the COVID-19 pandemic, we are confronted with another global crisis– climate change. Canada and the world are at a critical crossroads. Decisions made today will impact our children, our grandchildren, and many generations to come.
Canada must continue to focus on the repercussions of the pandemic, but at the same time the urgency to address climate change increases, and Canadians are well aware of this. According to a new study conducted by Abacus Data for the Canadian Nuclear Association (CNA), 91 percent of Canadians consider climate change a serious national and global challenge. Abacus surveyed 2,000 Canadians online between January 29 and February 3. Published February 18, the survey is available at cna.ca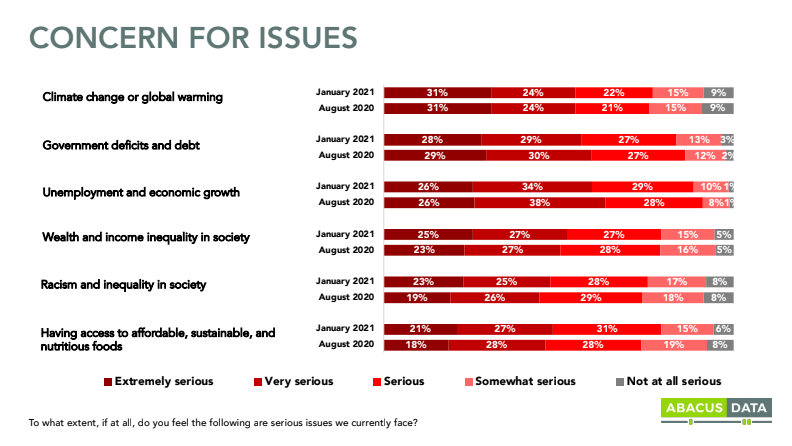 While the pandemic poses health and economic issues not experienced in generations, climate change threatens all of us, everywhere.
Like the pandemic, climate change threatens our physical, social and economic well-being. The solution includes investing in clean technology to transition to a low-carbon economy. Again,  Canadians widely support decisive action–86 percent of respondents believe the government should invest in clean technologies. Transitioning to a low carbon economy means leveraging the right mix of clean energy sources to include renewables like wind, solar and hydro-electricity in partnership with nuclear transmissions.
Why nuclear? Nuclear is a clean, energy-dense, carbon-free, reliable energy available around the clock. It has an exceptional safety track record built on more than 65 years of innovation with safety and environmental protection at its core. It's one of the largest producers of clean electricity around the world—and it is one of the most prominent in Canada, having already displaced over 80 million tons of greenhouse gas (GHG) emissions every year. That's the equivalent of moving 15 million cars from the road each year. These are just some of the reasons why 56 percent of Canadians believe it is important or very important that Canada should increase its reliance on nuclear as a clean energy source.
As the federal government has concluded – along with multiple studies by scientists, and environmentalists – there is no decarbonization model that gets us to its 2050 emission reduction goals without clean nuclear energy in the mix. The sense of urgency is more than activating a plan now to enable Canada to get to its emissions reduction goals. Canada's energy companies are also on the brink of needing to determine their long-term path and investment focus. The reality is that without the necessary government support and direction, the energy industry may default to investing in the status quo. Status quo could mean the continued reliance on high emitting energy sources like oil and gas to meet 80 percent of our energy needs – and Canada continuing to warm at double the global average rate.
New nuclear—particularly small modular reactors (SMRs)—is uniquely positioned to provide clean electricity, decarbonize our extraction industries, provide heat and power to First Nations communities, and work in tandem with renewables.  SMRs have a much smaller land footprint than current reactors and are often factory-constructed and modular, which means they are easily transported to remote or challenging locations.
Beyond the obvious environmental benefits, investing in clean nuclear technology offers huge economic opportunities. The federal government points to the fact that Canada has one of the world's most promising domestic markets for SMRs, with a possible value of $5.3 billion between 2025 and 2040. Globally, conservative estimates suggest a market of between $150-$300 billion per year in the same timeframe.
Canada's nuclear industry applauds the federal government's support in renewing our national nuclear laboratories and university research facilities, and advancing new nuclear technology to fight climate change. But Canadians recognize that we must commit now to advance clean energy technology if we are the meet the 2050 goals. Concurrently, there are fundamental policies Canada must explore to support the transition to a clean economy, notably including four key areas:
A pan-Canadian electrification strategy: According to the IEA (International Energy Agency). Canada will need to double or triple the amount of clean electricity it generates to meet the GHG reduction targets in the Paris Agreement of 2015. Electricity generation and transmission infrastructure currently falls under the purview of provincial governments; however, the federal government has a critical role to play in supporting a future powered by clean electricity, as the Supreme Court of Canada has reminded us in its landmark March 25 judgment on Ottawa's constitutional right to put a price on carbon emissions. This includes policies and regulations that create new demand for electricity in various sectors, such as the electrification of the transportation sector. It also involves encouraging a shared future of harnessing Canada's significant electricity resources—uranium, water, solar and wind—to provide increased amounts of clean electricity generation through regional cooperation.
Continued government support in the critical clean nuclear sector: Around 15 percent of Canada's clean electricity currently comes from nuclear – but it has significantly more potential to provide clean energy. Canada cannot afford to delay critical support and investments in the right mix of clean energy technology, including nuclear. A Canada-wide ecosystem of government labs, academic facilities, and corporate innovators can and must play a fundamental role in enabling Canada to get to net zero GHG emissions. It is imperative that the federal government leverage an integrated co-operation between itself, universities, and private industries to invest in and help regulate new technologies, such as SMRs, to fight climate change.
Regulatory support for Canada's uranium industry: Canada is uniquely positioned on the global stage as having the world's largest natural deposit of high-grade uranium, with around 85 percent of production currently being exported. Canada has a unique capability in uranium production that provides opportunities for northern, remote, and Indigenous communities. But the uranium industry requires particular attention through appropriate regulatory regimes and financial support to address economic and labour stabilization to maintain Canada's global leadership position.
Commitment to clear definitions of clean technology to include nuclear: While the government has acknowledged the critical role that clean nuclear technology must play to fight climate change, official categorization of nuclear is lagging.  The government must continue to provide clear articulation of nuclear as "clean" and "non-emitting" across all government departments and policy frameworks, as well as the inclusion of nuclear in export development and climate change policies. It is imperative that the industry must have access to clean funding through relevant energy, environmental and infrastructure programs to ensure further development and the creation of vital, high-skilled jobs. A clear articulation of nuclear as clean will help ensure this.
With the right investment and government policies, Canada can follow the path to a healthier and more prosperous future. A  future where Canadians have access to environmentally friendly and cost-effective options. A future where Canada is leading the world in emission reductions and meeting its climate change goals. A future achieved with a rapid shift to clean electricity.
John Gorman is President and CEO of the Canadian Nuclear Association and former President and CEO of the Canadian Solar Industries Association.