China and the Globalization of State Thuggery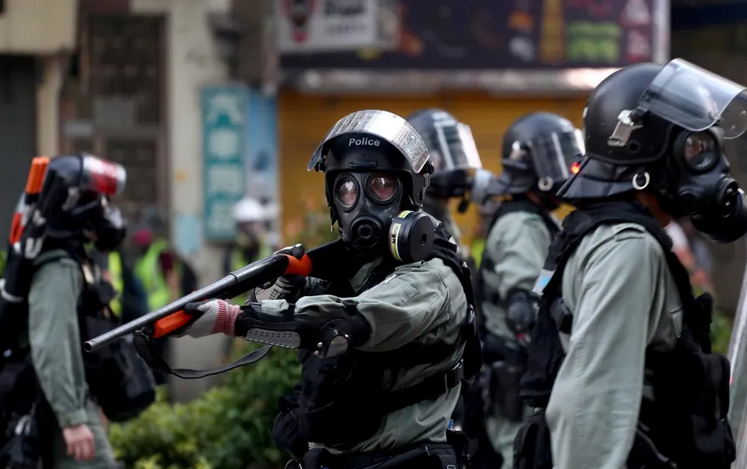 Reuters
Lisa Van Dusen/For The Hill Times
Aug. 9, 2017

As with so many political developments these days, the most obvious comparison with what unfolded in Caracas in the early moments of Aug. 1 wasn't a historical precedent or a concurrent outrage in a different country; it was fictional. In this case, Costa-Gavras films dramatizing state thuggery.
The scenes of opposition leaders Leopoldo López and Antonio Ledezma being physically removed from their homes by Venezuela's Sebin intelligence service (Sebin is the acronym for Servicio Bolivariano de Inteligencia Nacional, a remnant of the late Hugo Chavez's Bolivar fetish) were a reminder of the days when such visuals were mostly seen in films, because goons who banged on doors after midnight to drag off opposition leaders, activists, or journalists were sufficiently inhibited by shame or potential consequence not to leave a record. Now, CCTV footage and cell phone video adds to the terror as an ostensible deterrent to dissent in a country where innocent people have been lied to, starved, jailed, and shot by their own government for months. In the age of viral video, all thuggery is global.
Ledezma, the 62-year-old nominal mayor of Caracas, and 46-year-old Lopez were returned home to house arrest late last week. Their abductions followed President Nicolás Maduro's local rendition of what has become an international authoritarian fad—the abuse of democratic mechanisms to degrade democracy and consolidate and abuse power, as has been happening in Turkey, Rwanda, Hungary, Poland, and elsewhere.
Maduro's latest power grab is a new constituent assembly sworn in on Friday, the creation of which was the result of a vote last Sunday deplored by most major countries, human rights groups, the Vatican, and the company that manufactured the voting machines used. The assembly immediately voted to dismiss Chief Prosecutor Luisa Ortega, a former ally of Maduro, now a major critic. On Sunday, in a turn vividly reminiscent of the perfunctory alleged coup attempt in Turkey last summer that has enabled Recep Tayyip Erdogan to round up tens of thousands of the usual suspects under the guise of anti-terrorism, Venezuela underwent a perfunctory alleged coup attempt decried by the government as terrorism.
Canada has been eloquent in its condemnation of Maduro's mayhem, backing U.S. sanctions, denouncing the constituent assembly, and supporting Lopez and Ledezma from a distance. Prime Minister Justin Trudeau met with Lilian Tintori, Lopez's wife, in Ottawa in May and there have been suggestions from the region that Trudeau play a mediating role.
But, as in so many countries where democracy is being decimated these days, China, which reacted to last week's events with a surreal statement that the vote was "generally held smoothly," is the player with the greatest leverage here. Venezuela has the world's richest oil reserves but is now "entirely at the mercy of its Chinese creditors," as Martin Rodil, president of the Venezuelan American Leadership Council, wrote in The Daily Beast in March. It is Latin America's largest beneficiary of Chinese foreign investment, with Beijing providing $60-billion in loans over the past decade, $20-billion of which has yet to be repaid, according to Mr. Rodil.
Instead of using its economic leverage to fuel another authoritarian spiral, China could build on the wisdom of its consent to Saturday's United Nations sanctions on North Korea and wield its power in a more sophisticated, less arrogant way to produce peace, save lives, and reassure the world that it is not using economic imperialism to undermine democracy.
Lisa Van Dusen is associate editor of Policy Magazine and a columnist for The Hill Times. She was Washington bureau chief for Sun Media, international writer for Peter Jennings at ABC News, and an editor at AP in New York and UPI in Washington.