Canadians Need to Keep Making Noise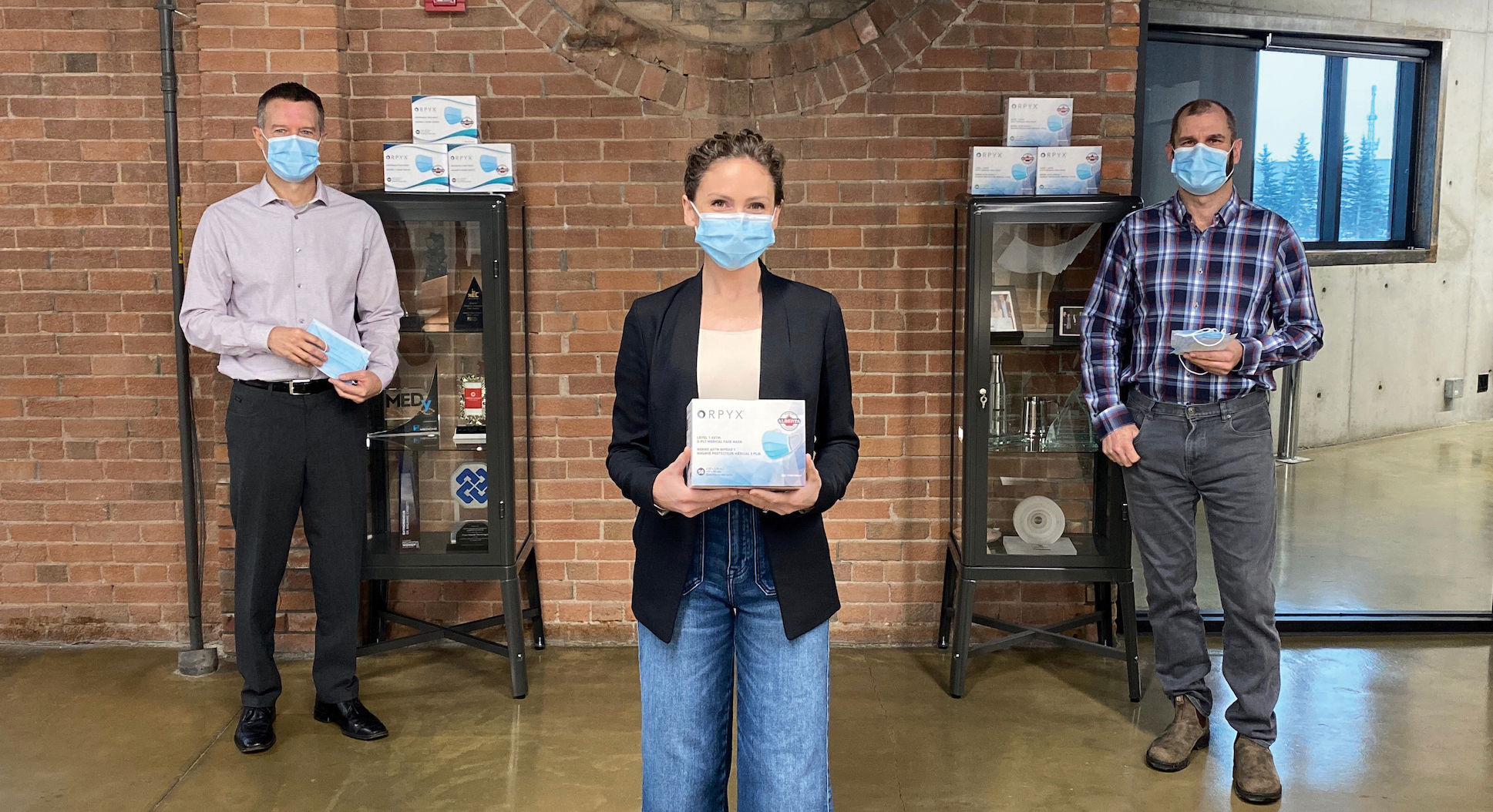 Amid the suffering, isolation and uncertainty of the COVID-19 pandemic and the economic lockdown it has necessitated, there are many stories of Canadian ingenuity to celebrate. Former Governor General David Johnston salutes just some of those innovators, the spirit of resilience they embody and the positive noise they've made.
David Johnston
"Let's make sure innovation is as noisy a word as it can be." Those are the words I used to end a letter to Kevin Lynch that was in my 2016 book The Idea of Canada: Letters to a Nation. Because, by its very nature, innovation is noisy. Innovators propose new ways of doing things and they are eager to say, "Look what I've done/created/made better." Innovators are quick to seek out collaboration and to discuss (maybe even debate) the best way forward. It's a noisy endeavour.
That noisiness is not always in line with our Canadian politeness; with our reluctance to make ourselves the centre of attention. Canadians are innovative; we just tend to keep quiet about our innovation. At least that was true before—before COVID-19, before we had to face the fact that many of our ways of doing things were no longer viable.
In February 2020, together with Edelman Canada, the Rideau Hall Foundation launched the second Culture of Innovation Index. The survey results painted a picture of a nation that valued innovation and that saw innovation as a driver that can improve our everyday lives. However, Canadians didn't necessarily see themselves as being involved in innovation, nor did they include Canada among the top countries for creating a culture of innovation. In fact, 65 percent of respondents believed that Canadians were risk-averse. 
Will those results hold true when we repeat the survey in 2021? Are we still a quiet nation, or have we collectively overcome our aversion to making noise and embraced innovation? I hope, and truly believe, that it is the latter.
When the pandemic forced us all inside, our usually quiet country got even quieter for a while. People retreated to take stock. But that silence didn't last very long. Within days, individuals and companies across the country started to ask what they could do to help their loved ones, their communities, their nation. 
Age and technological savvy weren't barriers as we embraced virtual ways to connect with and support our loved ones and neighbours. Communities found novel ways to make sure that people were not being left behind. When they could, small businesses and offices rapidly transitioned their operations online. Industry scaled-up production or re-tooled manufacturing lines to produce goods to help in the fight against COVID-19. 
Beer and hockey—two Canadian stalwarts—were among many industries that answered the call to innovate. Breweries and distilleries, large and small, pivoted their operations on a dime (or perhaps on a loonie) to begin to produce hand sanitizer. Bauer shifted its manufacturing from hockey masks to medical face shields for our frontline workers.
There are so many examples of Canadian innovation in response to the pandemic, but one that has served as a model and inspiration for many across the country is the story of the Canadian Shield. Responding to news of a shortage of personal protective equipment for frontline workers in Waterloo, InkSmith transitioned overnight from selling 3D printers and laser cutters to manufacturing face shields, and they put out a call to others in the area with 3D printers to join them.
Like the truly innovative, however, they didn't stop there. Not content with the status quo, the company developed a prototype for a face shield that could be manufactured quickly and, so important within the COVID context, be disinfected and reused. The Canadian Shield was born. Months later, with a growing workforce and a new larger production facility, the company can produce 200,000 face shields per day. A truly remarkable (and noise-worthy) story!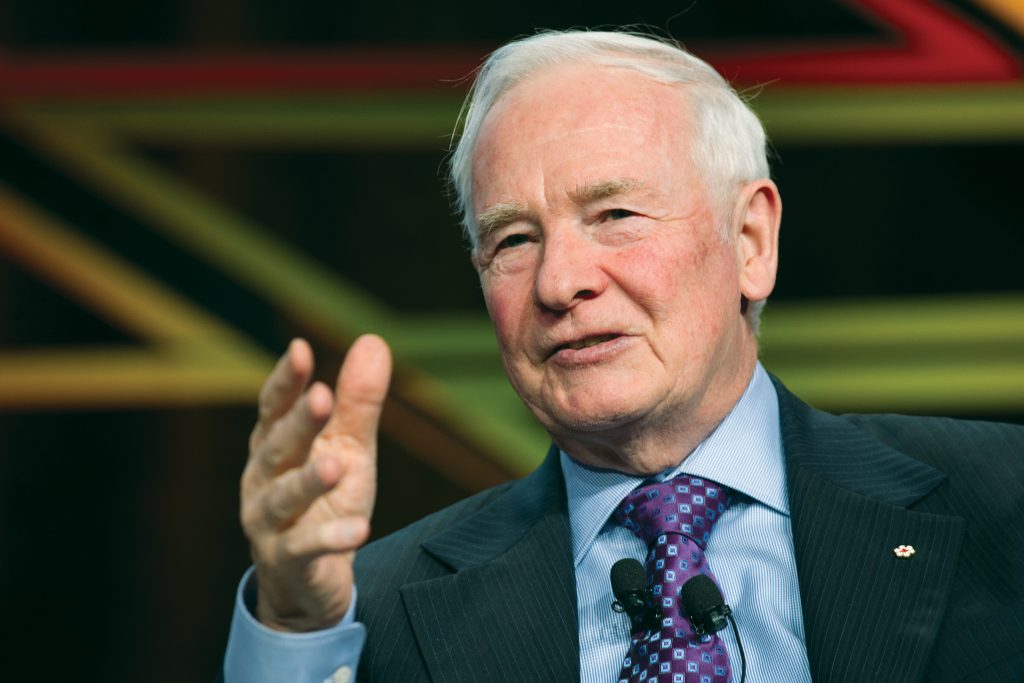 Montreal-based civil aviation company CAE also generated a lot of noise in the spring when it shifted its operations from flight simulators to ventilators. In the space of 11 days, CAE engineers and scientists designed a ventilator prototype that could be used in intensive care units. After receiving Health Canada certification a few months later, CAE is now contracted to supply 10,000 ventilators to Canadian hospitals.
My final example of Canadian innovation is one that brings a smile to my face because it involves a recipient of an inaugural Governor General's Innovation Award (GGIA). I had the pleasure of awarding Dr. Breanne Everett, President and CEO of Orpyx, a GGIA in 2016 for her work developing shoe insoles to help patients with diabetes. 
In the spring, when it became known that we were facing shortages of personal protective equipment for people working on the frontlines of the pandemic, Breanne Everett and Melissa Lamothe started a charitable group called Helping Alberta. This was a volunteer-driven, community-based organization that raised funds to buy N95 and surgical masks for frontline workers in Alberta. Breanne didn't stop there. Orpyx partnered with Fidelity Machine and Mould, Engineered Air and Edon Management to begin producing masks in Alberta and, in October, announced an agreement with Alberta Health Services to provide millions of made-in-Calgary masks for Alberta healthcare workers, as well as for patients and their visitors and families. This endeavour will create up to 100 jobs in the region. I'm sure that I'm applauding loudly enough in Ottawa to be heard all the way in Calgary.
And it wasn't just individuals and industry that innovated. In record time, governments—often seen as slow to embrace change—developed, implemented and adapted policies and programs to help Canadians navigate the uncertainty. Schools rolled out online learning in a matter of weeks so that our kids could keep learning and they re-envisioned the school day (whether in person or online) so our kids could start a new school year in September.
Through it all, we made a lot of noise. We shared what we were doing and how we were doing it. The media highlighted stories of ordinary Canadians making extraordinary contributions. People read or heard about a good idea from one part of the country and brought it to life in their hometowns. Innovation became a word that we used in our everyday conversations. Collectively, we truly embraced a culture of innovation. 
When we emerge from under the spectre of the pandemic, we will truly be at a crossroads, faced with a decision that will have an impact on our country's future. Do we return to the safe? To the tried and true? Or do we push forward boldly, building on what we've learned about ourselves and our ability to face challenges head on? Do we continue to innovate and to collaborate? Do we continue to identify a need and then rush in to fill it? 
It will be natural for all of us to take some time to reflect on our experiences. To take a moment to pause and think about how life has changed for us and for those around us. But we can't afford to let that quiet last too long.
That will not be the time for any of us to stop embracing innovation in all its forms. It will not be the time to stop making noise. We will have come too far. And there will still be so many challenges left for us to face. 
We will have to work together to reconstruct our economy post-COVID. It will not be an easy task. While the pandemic has affected all sectors of our economy, some have been affected more profoundly than others, and, for many, it will be a long road back to "normal". The pandemic has also amplified social inequalities in our country. Inequalities that we must address head-on and not paper over for them only to be exposed anew the next time we face a crisis.  
But when our country is back on its feet—and we will get there—we will have to remember all that we accomplished together to get to that point. That will not be the time to sit back and relax. Imagine what we could do if we put this same spirit of innovation to work to combat other threats. Threats like the climate crisis, food insecurity or the cracks in our healthcare system that have been laid bare by the pandemic.
A culture of innovation is an essential element of the better, noisier future that we must commit to building together. Our country depends on it. Our future depends on it.  
David Johnston, 28th Governor General of Canada, is Chair of the Rideau Hall Foundation.