Canada's Leadership Challenge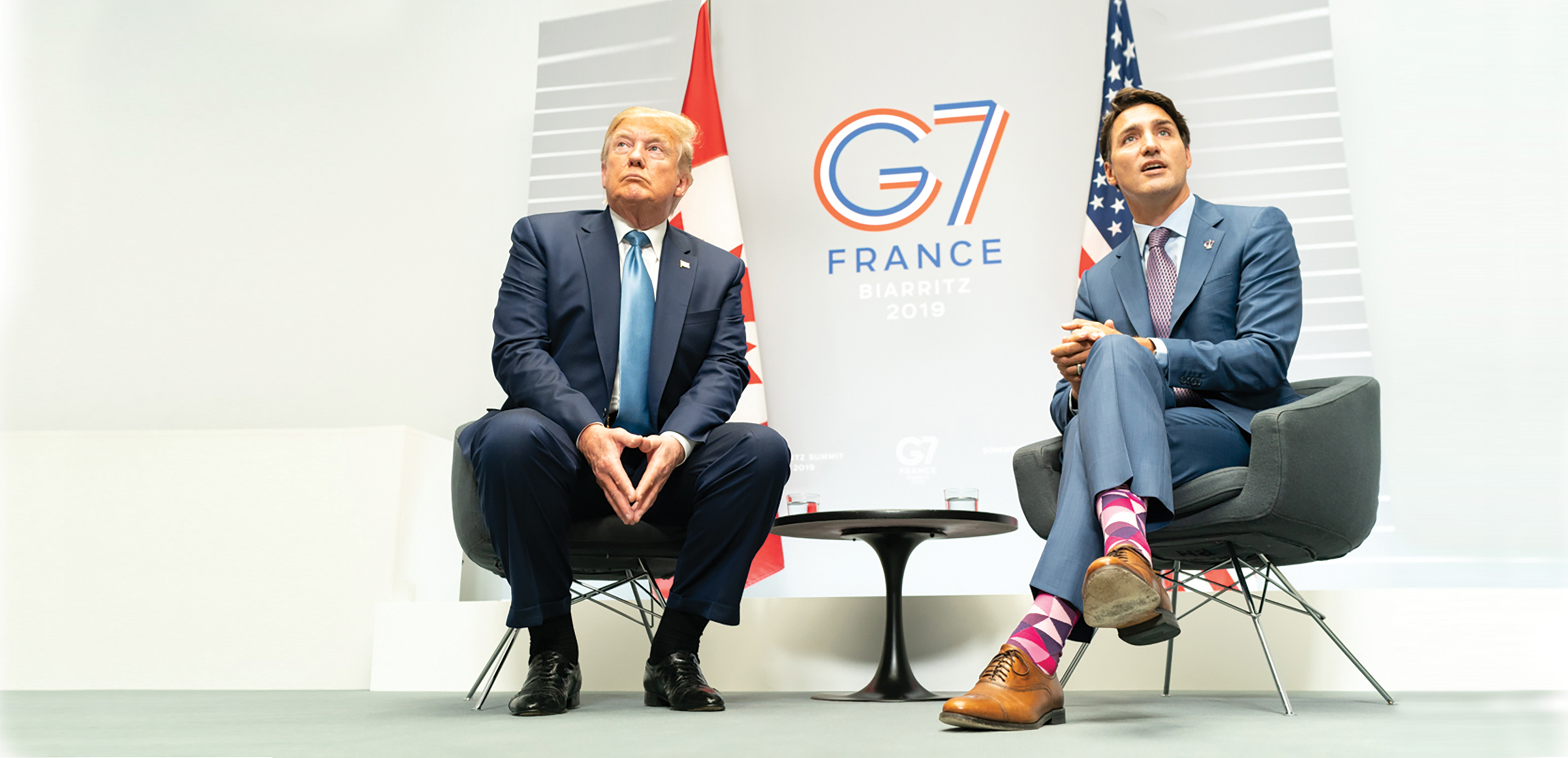 As widely predicted so loudly, vehemently and repeatedly by so many observers over the past three years, Donald Trump's presidency has veered from preposterous to downright dangerous—amid the crisis management demands of a global pandemic. Canada has an immediate responsibility to first do no harm to our bilateral relationship, and then to help the global recovery, both economic and geopolitical.
Jeremy Kinsman
As the COVID-19 coronavirus pandemic cuts a traumatic swath through various national timetables and trajectories, it wraps the crowded globe in a shared fearful narrative that will likely alter the way we all live.
After the Berlin Wall fell on November 9, 1989, Serge Schmemann of the New York Times wrote that "something essential had changed (and) that things would not be the same again." This pandemic feels like the epidemiological version of that geopolitical before-and-after moment. No question, COVID-19 will change how we live, travel, work, learn, and keep track of each other. On global cooperation, French economist Thomas Piketty warns, we can't just press the "resume" key. International institutions and economic presumptions need reform.
Past seismic events have suddenly altered the global agenda by episodes of violent human disruption—world wars, the Russian Revolution, or 9/11. This pandemic has no human force or ambitions behind its global shock wave, whose indifference to borders should deepen essential international cooperation. But retrograde nationalist competition is instead thickening protective borders. If great powers do not cooperate, the world economy will fail. We expect a hit to the U.S. and other economies as great as the Great Depression's. Already-high stakes for Canada are aggravated by the collapse of oil markets.
Internationalist, multilateralist, but with national interests intricately interlinked with the U.S., Canada must pursue two parallel tracks: re-building global cooperation, and sustaining efficient synchrony with our neighbour. 
Both have been disrupted by the U.S. President's mantra of "America First," a deficient slogan intended to conceal America's relative decline in the world order. 
While Donald Trump may be a one-term president, the motif of "America First" won't entirely exit—it was a popular theme of Pat Buchanan and Ross Perot decades before Trump—Canada needs a policy framework we can count on for all kinds of weather. Clearly, reliance on NAFTA to lessen our vulnerability to abrupt unilateral measures by Washington is not enough. As Ontario Premier Doug Ford—earlier, a Trump admirer—lamented recently, "I just can't stress how disappointed I am in President Trump … I'm not going to rely on any PM or president of any country ever again." 
So, Canada needs an open-eyed strategic plan that integrates our different imperatives: strengthening national self-reliance, while tightening the reliability of continental supply chains; internationally, deepening and expanding other bilateral partnerships; while working multilaterally to support forces of greater international cooperation. Globally, all governments are scrambling to provide economic and social relief for affected workers and businesses, printing money and incurring massive public debt. International cooperation is vital to mitigate public disarray.
It is a stress test for democratic governance. All countries missed early warnings of the pandemic. But, as World Policy Conference founder Thierry de Montbrial recently observed in this magazine, "populism is the great beneficiary of inefficiency." Indeed, populist nationalists are ramping up authoritarian control while disparaging inclusive liberal democracies as "ineffective." German Chancellor Merkel points to the "democratic edge" of transparency that can successfully mobilize social commitment to rise to great challenges. Coming out of the crisis, democratic governments will face accountability for their management, but with dependency on science and on collective action through essential services strongly reinforced. Leaders who have unified their countries—Canada's Justin Trudeau, Emmanuel Macron of France, Giuseppe Conte of Italy, Pedro Sanchez in Spain—are standing higher. 
In Ottawa, and in provincial capitals, the health and economic crises are all-consuming. The COVID-19 crisis is our national stress test. We seem more united than we thought via elected leaders deferring to science-based assessments of trusted health authorities. The consensus commitment to flatten the curve and crush the virus through self-denial reflects a stronger social contract and degree of trust in government than exists in the U.S., where Trump's role as a daily lightning rod means each and every public issue gets media-raked through the coals of seething political and social polarization. 
Canadians reel from random, provocative presidential news-bursts that the U.S. is about to station troops on the border, block contracted exports from a U.S. company of vital protective equipment, or unilaterally "open the border." Like a mongoose staring-down a cobra, Trudeau remains focused on outcomes over attitude, biting his lip to avoid criticizing the mercurial American president. The high-maintenance bilateral relationship is similarly managed with skills patience, tact, networks and tactical know-how that are NAFTA battle-hardened by a disciplined team under Deputy Prime Minister Chrystia Freeland that manages to work with practical Americans to put out the flames again and again. 
For Global Affairs, the extraordinarily complex operation to repatriate as many Canadians as possible from shut-down locales around the world has been its greatest effort in consular crisis management ever. Trade commissioners have pivoted to solicit and screen almost 4,000 leads for supply, most of which were fanciful or phony, to enable urgent delivery of life-saving equipment.
When the health crisis eases, what will Canada do to mitigate the longer-term effects? The government counts on a healthy balance sheet to carry a remedial deficit unprecedented since the Second World War until economic recovery enables pay-down over time. But as stated at the outset, we need separate but interlocking action plans to reduce our current vulnerabilities—to the effects of "America First" on our border, and to the world's current adversarial and fragmented state. 
Sometimes in our history, political shock has produced abrupt policy change. In 1972, unilateral and highly damaging U.S. tariffs from President Nixon persuaded Pierre Trudeau to reduce our vulnerability to U.S. political decisions over which we had no control by strengthening our national productive self-sufficiency, the "Third Option." Later, Trudeau struck the Macdonald Commission on the economy and, in 1985, Brian Mulroney happily accepted its major recommendation of a free-trade pact with the United States. It later became NAFTA. 
The worldview of Ronald Reagan, who was indispensable to that bilateral boom, is nowhere in evidence in the Trump administration, but the benefits of economic inter-dependency and productive cooperation remain valued by many Americans, provided they are fair. We need our connections with state, local, and business interests who support what Freeland defines as the long-haul defence of such an essential relationship. 
But concomitantly, we need an ambitious national effort to shore up our self-sufficiency. RBC CEO Dave McKay calls for a collective plan to make Canada more self-reliant—in capital, trade, technology, and skills. BMO's Darryl White sees an opportunity to "leapfrog" in productivity gains through innovation. Then, there is the urgency of getting a national act together on the energy-environment swirl that threatens national unity. Canada needs a new royal commission, on the consequences of the COVID-19 crisis and how to face these national priorities.
Of the wider world on which we also depend, Foreign Minister Philippe Champagne has already engaged international counterparts, in part via an ad hoc solidarity group, the "Alliance for Multilateralism" that Freeland had initiated with France and Germany and other countries—minus the United States—to bolster essential international institutions that Trump has repeatedly attacked. However, shifting from crisis management to creative re-construction can be a challenge for organizations exhausted by the struggles to save ourselves from a plague, and to re-knit our finances. There is a temptation to relax.
After the Cold War, Western democracies had the chance to reach out to consolidate an inclusive one-world spirit for the future that was fairer to all. But we complacently slipped into the self-involved belief that democracy, freedom and open markets had "won" and would remain the uncontested way of the world. 
Again, the industrialized world managed the 2008-09 financial crisis by saving Big Finance, but ignored the destructive effects of monetized globalization, unfettered capital flows, and widening income disparity.
This pandemic's effects and economic costs will be especially grave for Africans, without substantial health care and infrastructure. As ex-President Ellen Johnson-Sirleaf of Liberia warned, if the world is too self-involved to think of Africa, African problems will become everybody's, for a world that is becoming phobic about migration. Yet, international financial and trade organizations are too hobbled by lack of political will from the competing great powers and unremitting U.S.-China hostility to reform. Among political institutions, the United Nations Security Council has had no role in mediating this world crisis for the same reasons. The G-7, and the G-20, have buckled under self-interested U.S. and Saudi chairs.
U.S. "continental drift," its evacuation of world leadership, absolutely does not mean Canada should shelter in place.
As the "other North America," Canada needs to dialogue with everybody. In hoping the U.S. will sort itself out, Canadians should keep the faith with supportive U.S. civil society. We must connect to China, despite objections to the regime's stance on openness and human rights. The notion that Canada today can deny the need to interact with energy and ambition with the massive Chinese economy is delusional.
As an internationalist country with citizens from everywhere, that knows the value of borders as well as the existential necessity of international cooperation, Canada has to lead by leaning into the project of making cooperative diversity work for human survival. The project to define Canada's continental and global responsibilities and opportunities is a participatory task for all Canadians. It equals our active engagement in the creation of the post-war world. It offers a rendezvous with human destiny.
Let's see if we're up to it.  
Contributing Writer Jeremy Kinsman is a former Canadian Ambassador to Italy, to Russia and to the European Union, and High Commissioner to the U.K. He is a Distinguished Fellow with the Canadian International Council.