Canada's Grounded Matriarch: Aline Chrétien, 1936-2020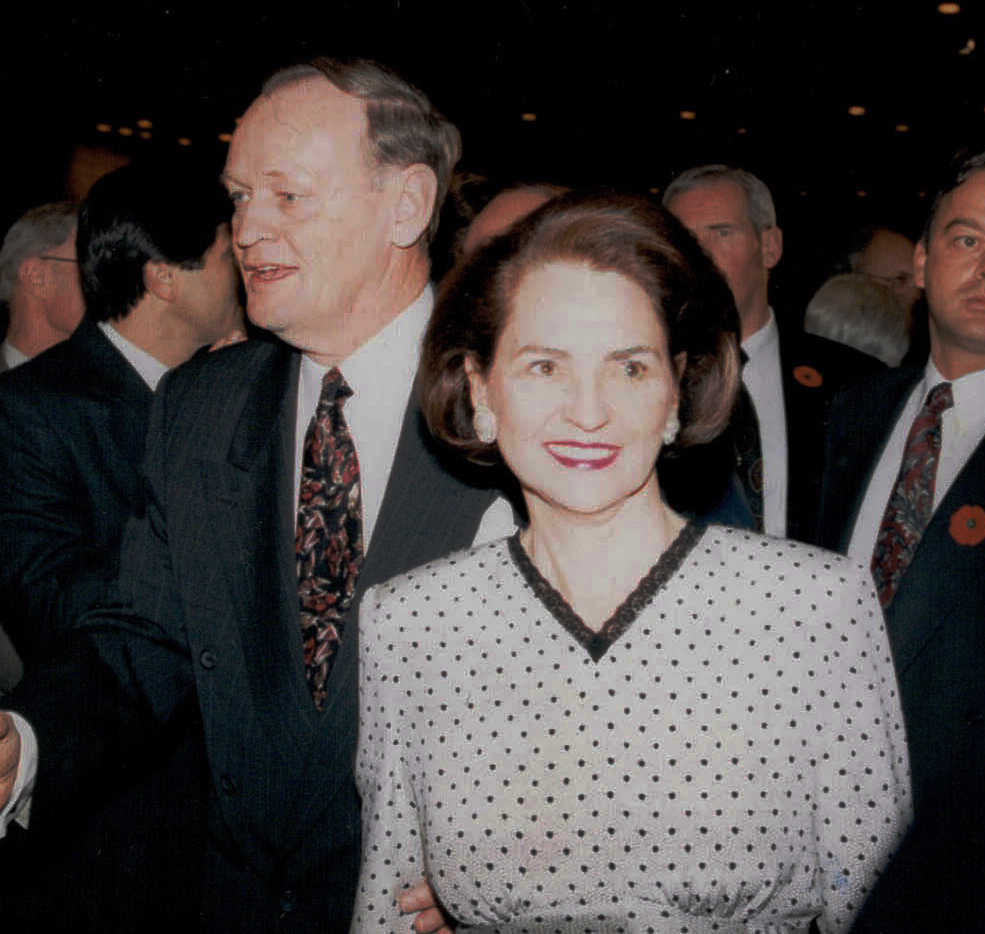 Aline Chrétien, known to generations of Canadians as the mostly silent partner in the meteoric career of Jean Chrétien, was the force that kept her husband connected to the lives of Canadians and from losing his perspective to the distortions of power.
Eddie Goldenberg and Peter Donolo
September 18, 2020
Canada mourned the passing this week of a great lady.
Jean Chrétien once said that without Aline he never would have become prime minister of Canada; we heartily agree.
Both of us came to know Aline Chrétien (née Chaîné) well, one of us for almost 50 years, one for 30 years. Getting to know Aline Chrétien was an immense privilege in itself and part of the privilege we had of working for Jean Chrétien both before and during his decade in office as prime minister of Canada. We went in as colleagues; we came out — along with all the other alumni of our office — as family and as friends. And, inevitably — and happily — as part of the extended Chrétien family.
That inclusion began with Aline, who treated us like family. There was always an extra place at the table if we had to meet at odd hours with the PM at 24 Sussex. There might be a small gift that had caught her eye on a trip that she thought would please us. There was the ongoing interest in our lives and our families.  "Remember," she would tell us on more than one occasion, "stay close to your family. Pay attention to them. When all the politics are over, that's what you have: your family. It's the most important thing of all."
Her warmth, generosity, elegance, authenticity, thoughtfulness, and yes, toughness, when necessary, were sensed by millions of Canadians who never had the chance to meet her. They were experienced on a daily basis by those of us who knew her and worked for her husband.
Michelle Obama famously said that "being president doesn't change who you are; it reveals who you are." Well, the same is true for Canadian prime ministers — and in this case, for Prime Minister Chrétien's partner, best friend, closest confidant, and love of his life — Aline Chrétien.
Aline came from a working-class family in Shawinigan, Quebec. And while she learned to be comfortable in Buckingham Palace, the White House, the Great Hall of the People, or the Kremlin, and to represent Canada abroad in a way that would make every Canadian proud, she never forgot her roots. She could travel the world but loved, more than anything, going home to Shawinigan.
She knew that it was her husband who was elected, not her. She didn't believe that the spouse of the prime minister should seek the limelight. She didn't want an office in the PMO; she thought that would be wrong. While there is no official "First Lady" role in Canada, the role of a prime minister's spouse is cloaked in ambiguity — not an official figure, but not exactly a private citizen either. Aline believed that giving the most candid, unvarnished advice to her husband in private was the best contribution she could make.
Her calm — and calming — grace at the centre of what is, by definition, a vortex of activities, emergencies and pressures was a steadying force for all of us — and no one more so than her husband.
No opinion mattered more to him. Criticism that might make him bristle coming from others, he accepted and profited from when offered by Aline. No one knew Jean Chrétien — his dreams, his hopes, what was in his heart — better than Aline Chrétien. So, when he was off-track or in a rut, or not breaking through, she could tell him — remind him of who he was, why he was in the game in the first place, and how to shove away the distractions, and get back to the basics. And sometimes for us, when we were frustrated that the prime minister was stubbornly ignoring advice that would keep him out of trouble, or occasionally lacking in discipline on the campaign trail, we saw Aline as the final court of appeal and went to her, knowing that it she agreed with us, she would plead our case one last time with more success than we had had.
The other indispensable role Aline played was keeping Jean grounded in the real world. The biggest hazard of high office in Canada — and none more so than the office of prime minister — is how it can isolate its occupant from the day-to-day realities of their fellow citizens. It can be deceptively — sometimes fatally — easy for a PM and spouse to allow themselves to be swathed in the comforts of that gilded isolation. By her own description, Aline Chrétien saw herself as "Madame Tout-le-Monde".  She would speak to old friends in Shawinigan on a regular basis about the challenges they and their families were confronting in their lives. What they were dealing with. What worried them. What made them mad. What kept them up at night. She would learn whether or not the government they'd elected was working for them. About whether programs were responding to their needs.
And she would relay those discussions to her husband. By keeping grounded and tethered to reality, Aline helped ensure that Jean stayed so as well. It was a useful counterbalance to advice the PM received from public servants and staff, which was often very strategic and could also be abstract. It was also an effective check on the other sources of input for a Prime Minister: fellow politicians who will tell the top guy what they think he wants to hear, or interest groups trying to advance their own cause, no matter how narrow. There is no greater reality check than understanding how life is — how it really is — for everyday people, and to advance that point of view without fear or concern about how it would affect your standing with the PM.  Jean Chrétien expected that candor and honesty from all those around him; largely because he had always had it, long before we were around, from Aline.
She didn't care for phoneys and flatterers. She had no time for snobs or social climbers. If she thought the PM was getting too big for his britches, she would let him know. When he was tempted to rashness, she would slow him down. Just as important, when she felt he and his agenda weren't being served properly she would tell him.
For all these reasons, though she was never a part of the PMO, never had an office there, or staff in the PMO, or participated in our meetings in Ottawa or on the road, we saw her as very much part of our team — just as she saw us as part of her family.
That Aline and Jean Chrétien complemented each other perfectly is evident to people who never even met them. Her serenity was a counterpoint to his exuberance; and her private nature balanced his own extroversion and penchant for action.
Indeed, much has been written about the remarkable lifelong partnership of Aline and Jean Chrétien; their journey from working class districts of a rough-and-ready mill town to the apex of national power and international prestige.
But what is even more important is how little that journey changed them. They were both deeply devoted to Canada and to the institutions they served, but never fell in love with the trappings of power. They never forgot who they were or where they came from. What you saw was what you got. Indeed, one of the great benefits of working for Prime Minister Chrétien was that both he and Aline were the same in private as they were in public — something that is not always the case with public figures. In fact, they spent much of their post-prime ministerial time living in the community they came from. And, of course, their seven-decade love story must rank as one of the great Canadian romances.
Aline Chrétien had hoped to go to university but, as the daughter of a hairdresser and a power plant worker, her family's economic circumstances precluded her from doing so. Indeed, when the prime minister asked her what she thought of a proposed national scholarship program (the Millennium Scholarships), her response was "Jean, do it. If we had had that when I was younger, I would have been able to go to university." Yet, while she was unable to attend university, she more than made up for it. She never stopped growing as an individual. On top of raising their children, France, Hubert and Michel, she sought and mastered one exacting challenge after another. She became quadrilingual, adding Spanish and Italian to her repertoire of French and English.  She became a serious and dedicated pianist and champion of the arts. She read widely and studied the world around her. And most important, later in life she was a devoted grandmother and great-grandmother.
The privilege that we had of knowing Aline Chrétien over so many years leaves us with a deep appreciation of who she was and why she was so important. But getting back to that Michelle Obama quote, the way each spouse performs the function "reveals" who they are. The Aline Chrétien that was revealed to us was completely in line with the elegant, refined and private lady that Canadians came to know vicariously.
Eddie Goldenberg and Peter Donolo served as long-time aides to Prime Minister Jean Chrétien. Goldenberg served as both Principal Secretary and Chief of Staff. Donolo served as Director of Communications. Currently Eddie Goldenberg is a Partner at Bennett Jones, while Peter Donolo is Vice-Chair of Hill + Knowlton Canada.