Canada's COVID Response: Necessity as the Driver of Innovation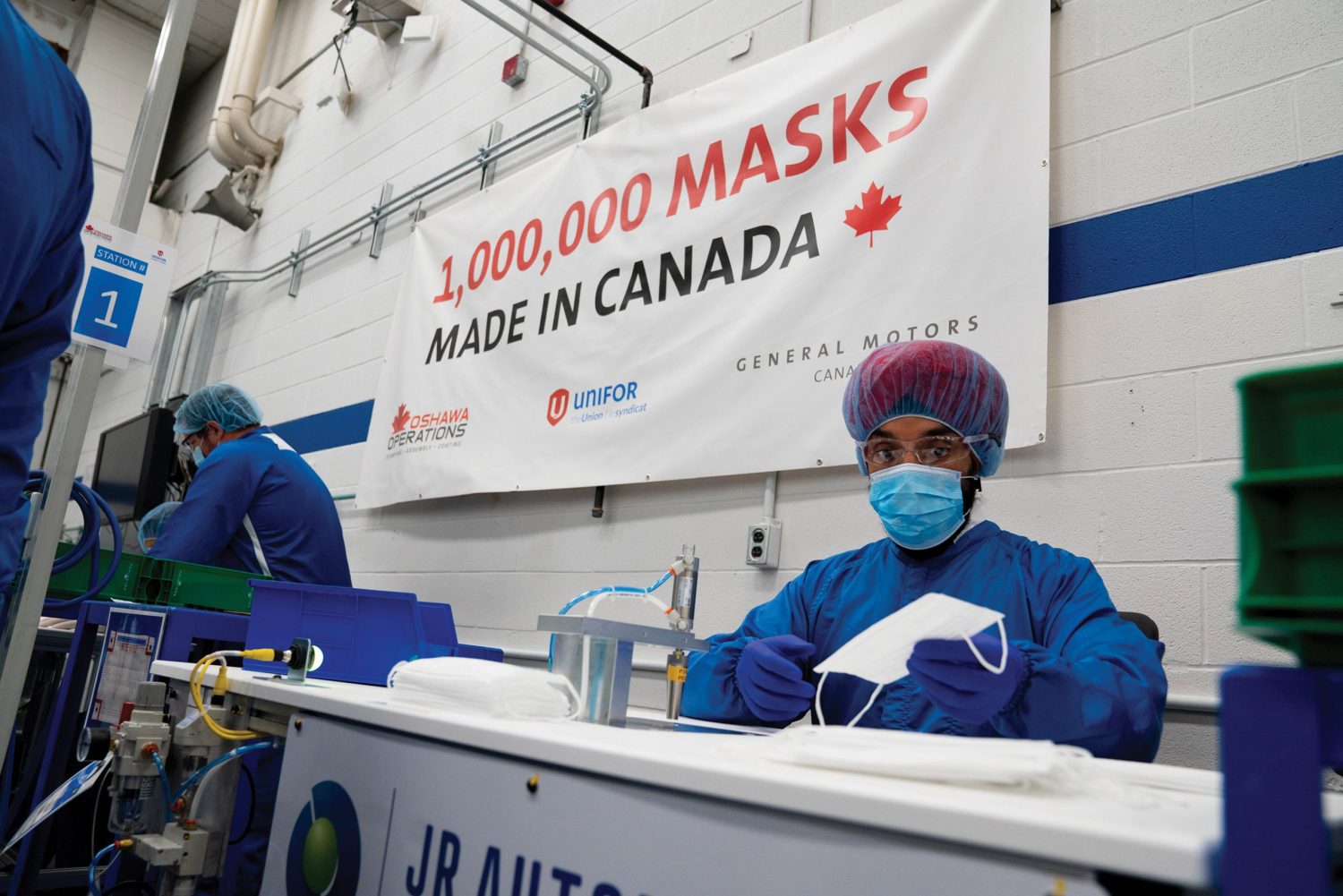 Canadians' capacity for adaptation has been tested by the COVID-19 pandemic, as the country has mourned the loss of life, adjusted to the economic disruptions and internalized the uncertainty inherent in living amid a deadly pandemic while the scientific community pursues the quest for a vaccine. For governments at all levels, this period has presented an unprecedented combination of challenges to both crisis management and long-term policy solutions. It has also presented an occasion to accelerate innovation, one to which Canadians have risen impressively.
Navdeep Bains
Through my contributions over the years in these pages, I have tried to give a sense of the strategy behind the federal government's ongoing efforts to grow Canada's innovation capacity. As the accelerated pace of technological change disrupts industries, transcends traditional boundaries and even creates entirely new industries, we have been systematically modernizing and adapting our policy approach to encourage business and research innovation. 
The realities of today dictate the need for new policy approaches—and that's exactly what we have been delivering through our Innovation and Skills Plan. The Plan is a whole-of government approach, supporting firms at all points along their development and Canadians through each stage of their lives. It emphasizes partnerships, brings together industry and academia, and embraces diversity and inclusion, which is our Canadian strength. The Innovation and Skills Plan's flagship programs, including the Industrial Research Assistance Program, the Strategic Innovation Fund, Innovation Superclusters, Canada's first national IP Strategy and Innovative Solutions Canada, have all been developed to address specific parts of the innovation ecosystem.
If ever there was a test for the effectiveness of our approach to innovation policy, it is surely our response to the COVID-19 pandemic. In this context, we have seen these flagship programs step up and move quickly to support Canadian innovation.
Canada's Advanced Manufacturing Supercluster has invested $4.1 million to accelerate the development of COVID-19 point-of-care tests.  The project, led by Sona Nanotech Inc, uses nanotechnology to develop point-of-care test kits that will improve the accuracy of virus detection and provide results in 5-10 minutes. 
With the unprecedented demand for COVID-19 diagnostic testing, there is still a limited supply of tests. Scale.ai is investing $500,000 in a project that will optimize the distribution of diagnostic tests for COVID-19. Led by Roche Diagnostics, this artificial intelligence (AI) solution will power a robust forecasting model that takes into account constraints in global supply, and allocates tests where they are needed most.
To strengthen diagnostics, the Digital Technology Supercluster has invested $2 million in XrAI, an AI-driven chest X-ray tool developed by 1QBit in close partnership with Canadian health care organizations and physicians. It will empower clinicians to more accurately diagnose and effectively treat patients with COVID-19 infections and other respiratory complications. Recently approved by Health Canada as a Class III medical device, it is ready to be deployed across Canada to support Canadian health providers in the fight against COVID-19. 
When COVID-19 hit, we put out a Made-in-Canada call to action to Canadian companies able to retool and source the materials and goods we needed. Our most immediate need was for a secure domestic supply of Personal Protective Equipment (PPE) for our frontline healthcare workers. 
In response to our call, thousands of companies, large and small, reached out to offer help. The result has been one of the largest retooling and procurement projects in Canadian history. We went from sourcing next-to-none of our PPE domestically pre-pandemic, to sourcing nearly half of the dollar value of our PPE in Canada today. 
This pivot has seen new partnerships and synergies emerge: a house-wrap-producer collaborating with a garment manufacturer to make medical gowns; whiskey distilleries pivoting to hand-sanitizer production, hockey gear companies making medical-grade face shields, and the list goes on. These partnerships are a testament to the creativity and resiliency of Canadian innovation.
This Made-in-Canada approach to combat COVID-19 has not only allowed us to respond to the need for PPE, it has helped keep many Canadians employed throughout this difficult period. 
An example: in early April, the Next Generation Manufacturing Supercluster announced an agreement with a consortium led by Molded Precision Components, with partner Sterling Industries, to produce face shields. 
Today, Molded Precision Components is producing more than three million face shields a week. This has allowed the company to maintain all existing positions, while adding over a hundred new jobs. They are also now in the process of opening a second manufacturing site in Oro-Medonte, Ontario. And in true Canadian fashion, the group has also donated shields to community organizations such as the local fire department and health care facilities.
We are leveraging these same programs to pursue technologies to improve testing capacity for Canadians from coast to coast to coast. 
In the long run, the best chance to return to normal is a safe and effective vaccine. Here again, we are benefiting from the programs we had put in place before the pandemic. Since 2015, our major investments to position Canada as a world-leading centre for science and research mean we are facing this crisis equipped with a strong and dynamic Canadian scientific community. We were able to focus our considerable existing expertise and capacity to contribute to the global race to create an effective and safe vaccine, and new therapeutics for COVID-19. 
Since mid-March, more than $1.2 billion in federal support has been committed to a national medical research strategy to fight COVID-19. This package includes new funding for vaccine development, treatments and new measures to track the virus. It provides more funding for vaccine development to VIDO-InterVac and the National Research Council of Canada's Human Health Therapeutics Research Centre, as well as funding for genome sequencing efforts through the Canadian COVID Genomics Network (CanCOGeN), led by Genome Canada. It includes $600 million through the Strategic Innovation Fund to support vaccine and therapy clinical trials projects and create biomanufacturing capacity. The new funding also includes nearly $115 million for the Canadian Institutes of Health Research to help create better medical and social countermeasures.
Our progress has relied on the hard work of the members of the COVID-19 Vaccine Task Force and the COVID-19 Therapeutics Task Force. We created these task forces to provide advice on promising vaccines, therapeutics and biomanufacturing projects and opportunities. They have been providing advice on how best to focus on projects with the greatest chance of success. These Task Forces are comprised of leaders in vaccines and therapeutics from academia, research organizations and the private sector, and they have volunteered hundreds of hours of their time to assist their fellow Canadians in this fight. 
In addition to the advice of the Task Forces, we are working closely with Canada's Chief Science Advisor, Dr. Mona Nemer. She has assembled a multidisciplinary expert panel to advise her on the latest scientific developments related to COVID-19 to ensure that our response is directed by the best available science, while recognizing that the evidence-base is evolving.
As we adapt to the realities of the pandemic, we know that we will need to be coordinated on principles and approaches across the country and across all levels of government—while recognizing the unique situations and circumstances in each region. This will include supporting sectors with particular challenges and needs. That is why I established the Industry Strategy Council, tasked with providing expert insight from Canadian business leaders to set the stage for the recovery of Canada's key economic sectors. This collaborative, common approach will allow us to make best use of the incredible expertise available across sectors and industries. 
Our Made-in-Canada response has involved strong collaboration among researchers, industry and the health care system. Throughout, we have kept in mind that the health of Canadians is at the centre of a healthy economy. Thanks to everyone doing their part, our country is now better prepared to deal with the second wave and work toward a sustainable economic recovery. 
We now know how much Canadian companies and researchers are capable of taking on when they are asked to step up. We see where our investments, and our big ideas, can take us as we focus on our economic recovery and our future as a nation. We understand that those big ideas will be vital to our long-term success in today's changing world.
It has been quite a year, yet despite all of the challenges we faced, I have been consistently impressed and moved by the effort and compassion shown by Canadians in light of this major disruption to our lives. I have watched Canadians step up, retool, research and design our way out of this crisis. Canadians have shown just how far they are willing to go for their neighbours, and for that, I applaud the innovators across our country.
As we look forward, we will continue to refine our approach, working with and learning from partners to realize the potential that innovation holds for our common future.  
Navdeep Bains is the Minister of Innovation, Science and Industry.