Canada: Cottage Country, or Not?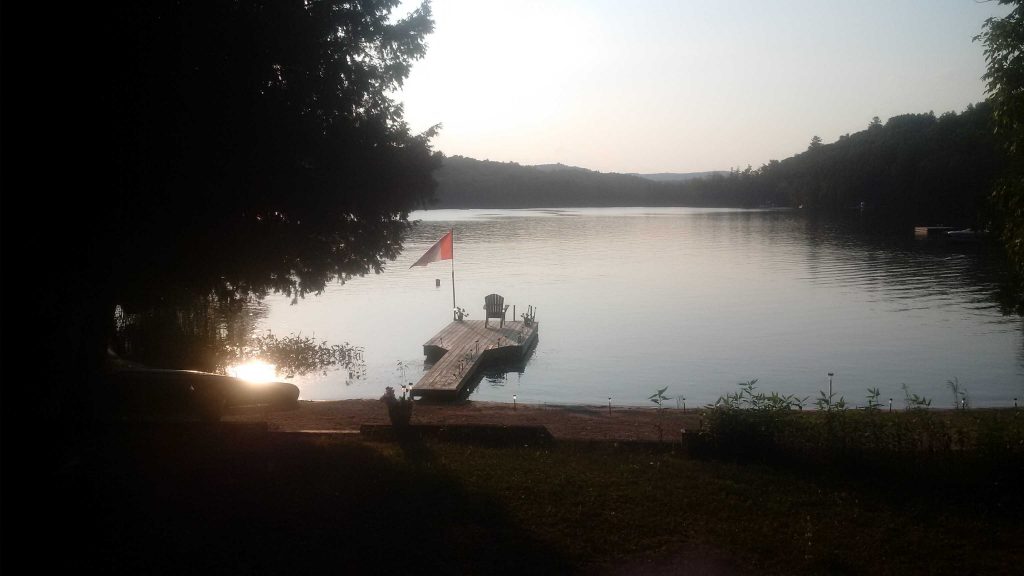 Author photo
L. Ian MacDonald
May 17, 2020
Ah, the Victoria holiday weekend. Time to go to the cottage and open up for the season.
Or not.
Normally, in our case, we would be at "the Lake" this weekend, observing two cherished rituals of spring–putting the Muskoka chair out on the dock, and the flag up at the end of it.
For 30 years, it's how we've started every season at Lac-St.-Pierre-de-Wakefield, where the sun sets off the end of our dock in the beautiful Gatineau Hills of Quebec.
Normally, it's only 45 minutes from the Peace Tower, just across any of the bridges over the Ottawa River and straight up Highway 307.
But not this year, not in the Gatineau, and not anywhere in Cottage Country, which is everywhere in Canada.
Welcome to pandemic spring, just ahead of the summer of COVID-19.
If you've got a cottage on the north shore of Prince Edward Island, you'd better be from Charlottetown or Sunnyside. Never mind crossing the Confederation Bridge. If you've got a summer home on the Mira River in Cape Breton, as my family has had for four generations, you'd better have a full-time house in Sydney or Glace Bay. If you've got a cottage in New Brunswick, you'd better be from Saint John or Moncton. If you have a place at Ste. Adele in the Laurentians, or Lake Massawippi in the Eastern Townships, you'd best be from Montreal. If you're on one of the famous lakes in Ontario's Muskoka country, stay in Toronto.
Ontario Premier Doug Ford drove up from his metro Toronto home on Easter Sunday to check out leaky pipes at his place in Muskoka and was back in the city by lunch time. The Queen's Park press corps called him on it at his next daily briefing, but all he had to do was mention cottage plumbing, and everyone understood where he was coming from.
But for cottage people, the stay away message resonates all the way to the West Coast, in terms of in-province as well as inter-provincial travel.
It's not that they don't like you, especially when it comes to paying the property tax, they just don't want your germs. They don't like the thought of outsiders exposed to COVID-19, much less carrying it.
In the Gatineau they relented at the weekend, telling outside cottagers it was okay to come, provided they brought their own groceries and promised not to socialize with anyone. For us, that would have meant no stopping at J.B. McClelland and Sons in Poltimore, our cottage grocery and hardware headquarters of all the years.
Up in those Gatineau Hills, there's only one small hospital at Wakefield, and it's not equipped for patients from the pandemic. In the entire Outaouais region of western Quebec, there had been only 366 cases and 10 deaths by the long weekend, the Globe and Mail reported, while there had been 1725 positive tests and 185 deaths across the river in the Ottawa region of eastern Ontario.
Which may be one of the reasons the Quebec Police Force has been even more annoying than usual, with check points on all five Ottawa-Gatineau bridges, which normally handle 150,000 vehicles per day. In the last two months, the Globe's Daniel Leblanc wrote, the QPF has stopped more than 300,000 cars, "turning back about 13,000 vehicles."
And this is in a government town, on both sides of the river, where people who live in Ottawa work in Gatineau, and vice-versa. Journalists with Quebec plates have become accustomed to showing their credentials from the National Press Gallery, as well as their drivers' licences. Going to the cottage? Forget it.
And it's been quite pointless arguing with the Quebec cops about your constitutional rights. They're operating under emergency conditions, answerable only to the Quebec government, which signs their pay cheques. Quebec announced on Friday it was letting up on the bridge pullovers, but only after the long weekend.
Yes, but what about your mobility rights? Your what?
Your Charter rights.
Those rights are entrenched in Section 6, "Mobility Rights" of the Canadian Charter of Rights and Freedoms. It's quite clear in sub-section 2: "Every citizen of Canada and every person who has the status of a permanent resident of Canada has the right to move and take up residence in any province; and to pursue the gaining of a livelihood in any province."
The only limitations are non-discrimination and affirmative action references. And there is no constitutional override. The Notwithstanding Clause, the infamous Section 33 of the Charter, applies to Section 2 on fundamental freedoms and Sections 7 through 15 on legal and equality rights.
But not to Section 6 mobility rights.
You can be sure that Justin Trudeau hasn't been pointing this out in his weekly conference call with the premiers. It would be off message, the stay home one they've all been on.
But when the pandemic is well and truly behind us, it would make a fascinating test case of the Charter over at the Supreme Court.
L. Ian MacDonald is editor and publisher of Policy Magazine.