Bilateral Distancing: The Trudeau-Trump COVID-19 Divide
As with so many bilateral files since Donald Trump became president, the pandemic response has hit a preposterous climax.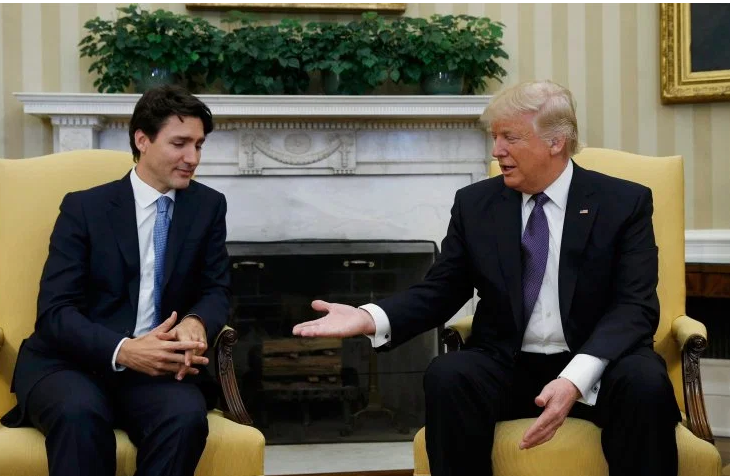 Reuters
Jeremy Kinsman
March 26, 2020
The M.V. Coho arrives in Victoria's Inner Harbour on its afternoon run from Port Angeles, Washington, 20 miles across the Juan de Fuca Strait, delivering, among others, the last snowbirds from the California desert and Arizona. Service on the Canada-U.S. ferry line will stop on Monday, March 30, joining flights and boat service to Seattle.
Over sixty years, the Coho carried millions of vacationers twice a day, four times in summer, past generally welcoming border controls. Those controls were tightened after December 1999, when Algerian terrorist and refugee Ahmed Rassam, who was on his way to California to blow up LAX as a millennium New Year's Eve surprise, was asked to open his trunk on the Port Angeles side.
While we'll still be able to see the lights of Port Angeles across the water at night, we have not been this separated for a hundred years.
We took cross-border mingling for granted over the last century. Cultures and instincts in western Washington state and British Columbia dovetail, as they do across the vast undefended border, through the Lake of the Woods and among the Thousand Islands, to Stanstead, Que, and Campobello.
The Second World War deepened the notion that we were basically the same North American people through working and dying together. More than allies, we were neighbours defending the same extended family space. We went on in the post-war creation of a new and safer cooperative world, working from a shared multilateral playbook.
Our leaders trusted each other. FDR and Eisenhower spoke our language. We loved JFK. Firmly on the same side of the Iron Curtain (though unsettled by McCarthyism), we went to war together in Korea.
Things began to grow apart over the traumatic and divisive U.S. war in Vietnam, which Canadians experienced most directly through the presence in their communities of what were then known — less by way of disparagement than explanation — as draft dodgers.
Change of all kinds polarized U.S. society, deepening social division and distrust of government for many Americans. More hopeful Canadian change thrust Pierre Trudeau forward.
Nixon's White House, which played to division, didn't like "that hippie," who opened relations with Communist China before Washington did. When Nixon slammed unilateral tariffs on us in 1972 without consultation, it put an end to Ottawa mandarins believing we had a special working relationship at all.
From then on, we looked more warily at U.S. policy-making intentions across the board.
Ronald Reagan brought revived nationalist swagger to Washington and some hostility to Canadian defensive measures to reduce our vulnerability and over-dependence. But Brian Mulroney co-opted the U.S. president's unique instinctive attraction to the idea of a North American community of peoples.
Was it really a community? The U.S. had always cherished its founding disposition to the goals of "life, liberty, and the pursuit of happiness." Americans churned in debate and defence of rights to speech, guns, identities, and the sacrosanct liberty to make as much money as possible under the law. Canadians deferred to our seemingly more placid goals of "peace, order, and good government."
Those diverging social emphases were obscured by our closeness to George H.W. Bush, who led the transformation of the post-1989 world with a shared zeal for multilateralism. We went to war in a unique U.S.-led global coalition to protect Kuwait.
The US coasted into sole super-power status and the prosperous 90s under Bill Clinton, a good friend of Chrétien and Canada, but on September 11, 2001, the roof fell in.
The U.S. lashed out in anger and pain, invading Iraq on spurious grounds. Canada, wisely, stayed out. Anti-terrorism deepened the U.S. militaristic mood, turning the Canada-U.S. border into the northern wall of fortress America, threatening the Canadian economy and NAFTA.
But the U.S. band played on as globalization roared ahead. Banks, predatory investors, and corporations plundered a laisser-faire atmosphere. When it collapsed in an explosion of distrust and rancour over institutionalized fraud in 2008-09, Canada's regard for order and good government kept our own banks on the side of social responsibility.
Barack Obama's election seemed like a miracle cure, putting a Canadian-style multilateralist in the White House (though with an American-style conservative nationalist in power in Ottawa). Over eight years, U.S. leadership drove progress on humanity's existential threats of climate change and nuclear weapons break-out. China's sensational rise still seemed amenable to a sort of G-2 U.S. partnership.
Deadly epidemics crossed borders — SARS in '03, H1N1 flu in '09, and then Ebola — but their impact was tempered by U.S. leadership in galvanizing international cooperation.
Yet, for all those who revered and welcomed Obama, many Americans felt at odds with this avatar of inclusivity. The urban-rural divide and second-wave transformations of the fourth industrial revolution left millions insecure, both socially and economically.
That insecurity about the future was compounded by a historic level of dissatisfaction over the two nominees in the 2016 presidential election campaign.
When Donald Trump won the White House, based on the false promise of "America First", he trashed multilateral cooperation and allies. Canada's relationship managed a defensive save of NAFTA, but only after enduring unilateral tariffs on key exports for bogus "national security" reasons.
We know the story of the last three chaotic years.
Cut to the coronavirus pandemic, on which the Canadian and American leaders are projecting diametrically opposed approaches: Trudeau heeding scientific authority all the way, as are provincial premiers, who defer to their health advisors to situate Canadians vis-a-vis our community and individual obligations to fight the spread of disaster; Trump dissembling, scoffing, above all, self-promoting.
America is divided, as key U.S. governors and almost all medical authorities project the pitch that dominates Canadian governance. But Trump plays to his base against medical advice, dangling the notion of re-opening workplaces to get stock market indices back into politically safe territory.
Trudeau studiously avoids any criticism of Trump, and, when possible, even any reference, focusing our relationship only on border and supply chain challenges.
We wanted the border closed to all but essential workers, fearing both a vast surge in U.S. infection and Trump's erratic management. We succeeded in obtaining mutual cooperative agreement, now mocked by revelations the U.S. is considering stationing armed forces on our border.
Internationally, U.S. leadership is vacated. Though the U.S. President is in the G7 chair, a G7 teleconference on the pandemic had to be organized by French President Emmanuel Macron, and went awry over U.S. insistence on calling COVID-19 the "Wuhan virus". Trump is silent on the collapse of oil prices that is killing Alberta, caused by his ally, the dictator of Saudi Arabia who, perversely, now chairs the G20.
We have a new and able ambassador in Washington, Kirsten Hillman, who will not be expounding publicly on world affairs. Her job is to keep the bilateral mechanics across the border as healthy as possible. Canadians will work on global cooperation with those partners who believe in it — in Paris, Berlin and elsewhere.
We'll survive, almost all of us. One day, the Coho will again ply the Strait with its thousand passengers, enjoying vacation travel to the different but friendly space south of the border.
Today's "America First" mantra and debilitating internal antagonisms can't last. Indeed, U.S. generation "Z" — now between 8 and 23 — will in a decade be enfranchised. It is the most progressive, least materialistic, most race and identity-inclusive, green and internationalist generation in U.S. history: They number about 110 million.
Hopefully, they'll ensure this period in Canada-U.S. relations will be just a bad dream in our long narrative as neighbours, one their kids will read about when they study the pandemic of 2020.
Contributing Writer Jeremy Kinsman is a former Canadian ambassador to Russia, and the EU, and high commissioner to the U.K. He is a distinguished fellow of the Canadian International Council.