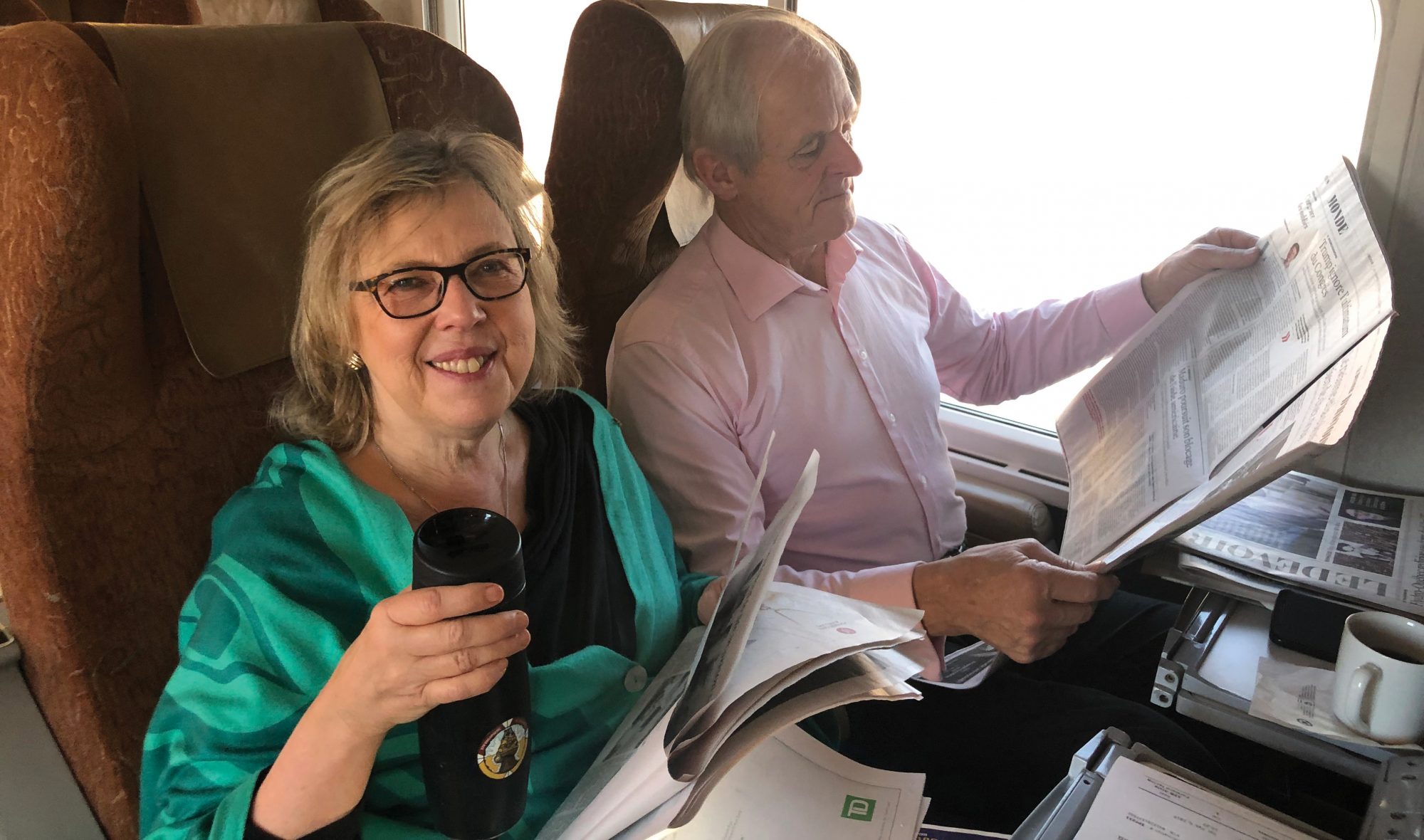 Between being naturally sociable and being the leader of Canada's Green Party for the past 13 years, Elizabeth May has likely met more Canadians than any other currently-serving politician in the country. Her notion of the Canadian idea has been formed by her engagement with so many people and informed by her travel to every corner of this vast country, especially by train."Canada is not authentically located in our large claims of 'supercluster' this and 'superpower' that," May writes. "Canada is found in our daily small kindnesses."
Elizabeth May
Almost everywhere I go in Canada, people say, "In this community, we have at most two degrees of separation—maybe one!" Whether in London, Ontario, or Halifax, Nova Scotia, or Victoria, B.C., locals feel their community is exceptional for the degree of closeness. In my experience, all of us are that close—from coast to coast to coast. 
I accept the statistics—we are a population of over 35 million. It is simply not possible that we all know each other so well. But, in the same way that I know the earth is round and orbits the sun, it doesn't feel like that. It feels flat. And Canada feels like a village.
Never more so than one day in Parliament last fall when I told Justin Trudeau that my new love, John Kidder, was Margot Kidder's brother. Public Services Minister Carla Qualtrough, overhearing Justin's affectionate response about how many fond memories he had of the late actress, asked what we were talking about.
I replied, "Just that the new man in my life is the older brother of Justin's father's old girlfriend." Carla remarked that it was a pretty big coincidence. Justin replied, "It's a very small country."
On the other hand, man oh man, are we BIG! I remember taking the train from Ottawa to Halifax around 1995 with a dear friend and fellow activist from Nigeria. After dinner in Montreal in the dining car, and breakfast crossing the Miramichi River in New Brunswick, we sat down for lunch in the dining car outside Moncton and he exclaimed, with those gorgeous melodic Nigerian cadences, "And we are steel in the same countreee!" 
I am lucky to have had decades of travel across Canada. When I was executive director of Sierra Club of Canada, I frequently crisscrossed the country by train, bus, ferry and plane to connect with our vast network of volunteers. I avoid hotels and stay with friends and supporters. There is almost no little corner of Canada that is unknown to me. In most of Canada, I already know where my bedroom is in the friendly home of someone willing to host me. 
I have been "storm-stayed"—temporarily stranded by weather and transport delays—almost everywhere. I loved being stuck on Fogo Island when the car ferry needed an ice breaker to get back to the main island, and none was available. I played pool by the hour with the then-head of the Newfoundland Sealers Association, Wilf Bartlett.  
Another treasured memory was of the time a freak early winter storm left my mum, me and my toddler daughter cozily ensconced on a picture-perfect farm outside of Lunenburg NS, for a glorious two days. Years later, blizzard conditions led to the derailment of a freight train outside of Trois-Rivières, stranding my daughter and me plus 800 VIA Rail passengers miles from anywhere. The valiant VIA crew had food delivered by skidoo to an increasingly exhausted crew of cooks and VIA staff who managed to do their best. I remember it for the time spent chatting with other passengers, organizing impromptu play groups for the several little girls on board around my daughter's age.
I still try to take the train as much as possible. Honestly, I do not think anyone who has not seen the country by rail—or at least by leisurely road trip—can claim to have seen it at all.  
I know our airports equally well. To my horror, I can close my eyes and describe the floor plans of every Air Canada lounge in all our larger airports, and I also know the ones too small to have lounges. Our airports are efficient and well managed, increasingly overflowing with luxury shopping, creature comforts and tiny way stations for the harried frequent flier. But let's face it: the experience is one of sameness. A traveler could be almost anywhere. And once in the air, you are aloft and aloof. What river winds beneath the plane, if you should be so lucky to have a clear sky and a window seat view, is rarely a question pondered.  
On a train, the scenery beckons. One's eyes are peeled for a moose in that wooded wetland, or a bear gorging on summer berries along the siding. And even the most familiar route changes with the quality of the light, the season, and the rain, mist, snow, hail or bright sun. Toronto to Ottawa and the stretch on the Lake Ontario shoreline is never the same. It is eternally new.
Air travel is isolating. Train travel builds community. Train travel invites conversation.  
For our Christmas in 2016, my daughter and I decided to avoid the complications of family (divorces and estrangements) and take VIA Rail leaving Vancouver December 23rd, arriving in Toronto December 28th.  
We took a bedroom, with bunk beds and a private bath—all meals included. We packed our Scrabble board and our favourite traditional Christmas movies, and put the new puppy (a surprise complication for the trip) in the baggage car. At every stop with enough time to get the puppy out
of her crate and out into the snow, we made the trek back through over 24 cars, through sleeper cars and economy, to get to the baggage and the puppy. The first stop, along the siding in Kamloops, was a pretty large shock for a Vancouver Island dog who had not experienced the feeling of suddenly becoming a fluffy popsicle.  
We met people throughout the train. Although, due to poorly accumulated statistics (based on filling out customer surveys in the seat pockets and primarily left in the bedrooms of better-heeled travelers), VIA does not have the data to prove it, many Canadians still take the train as a practical and affordable way to get from A to B. For seniors and families with young children, the VIA discounts make it cheaper than air for those in economy. The chairs (called "day-nighters") are well designed to recline substantially. The sleeping people in the economy car barely stir at the occasional stop, letting people out to the small stations found in places like Ashcroft, B.C., Armstrong, Ontario and Melville, Saskatchewan. With only one VIA trip every four days, and with the collapse of much of Canada's bus service, VIA economy is now seriously overcrowded and at risk of becoming unpleasant.
On that Christmas trip, in our walks back through an already crowded economy car, we got to know Nancy, a lovely woman from rural Manitoba who had left her car parked in Rivers two weeks before. A fierce winter blizzard howled and our train, having been repeatedly shunted to the sidings by the CN right-of-way system, was increasingly late. I was worried as our new friend was older than me, had a car on a dark and freezing street in a town in which she did not live. Instead of arriving by 5 pm as scheduled, she was now disembarking in Rivers, Manitoba after 10 pm on Christmas day. The only hotel in Rivers closed a few years ago, there would be no open restaurants or stores. I had no idea what she would to do if her car battery had died. And neither did she. I was so worried about her, I gave her my email—but without any reliable internet on a train, I am not sure what I thought I could do to help.  
It was not until I got to Toronto that I received her email. Sure enough, once she unearthed her car from the mountain of snow, it did not start. She was alone on a deserted street in a howling winter storm. A man came out of nowhere, spotted her and told her he would phone the Rivers police to come help her. Sure enough, the young constable showed up and got out his jumper cables to start up the car. But he warned her sternly that the highway was closed. He told her to follow him. And so she was instructed to leave her car parked in the police station parking lot where it would be safe until she could get back to pick it up.  
And then, that wonderful young constable put all her luggage in his police car, installed her in the front seat, and putting on all his lights, drove at a snail's pace down the closed winter highway to get her home for Christmas.
On that train on Christmas Eve, in the pitch darkness, we sat in the dome car looking up at the stars. Miles from any discernible settlement, up ahead, we saw a small shack, incongruously festooned with Christmas lights. And just outside, a well-bundled older man held aloft a bright lantern, which he swung with enthusiasm and appeared to be shouting "Merry Christmas!" 
If you want to know Canada, get out of the cities. Get past our urban temples to air travel and out on the road. Find the policemen who rescue grandmothers. The farmers who pitch in when the neighbour's barn has burned down. And in the cities, talk to the volunteers in the soup kitchens and food banks. Find the Indigenous woman who teaches the ways of the past in a local Winnipeg community garden (like being able to access Jerusalem artichokes under the snow, below a trap door and nestled in hay). 
Canada is not authentically located in our large claims of "super-cluster" this and "super-power" that. Canada is found in our daily small kindnesses. Canada is the residents of south shore Nova Scotia who poured out to the frigid morning when Sikh refugees blundered ashore to find themselves wrapped in blankets and given strong tea. Canada is the first responders who never left their posts in Fort McMurray as the fire raged around them.  
Canada may not be perfect, but we are a people who know that through love and faith, we are perfectable.
At least, that's what I see from the window of the train.  
Elizabeth May, MP, is the Leader of the Green Party of Canada, and an inveterate rider of Canada's passenger trains.