Biden's Decency Wins the White House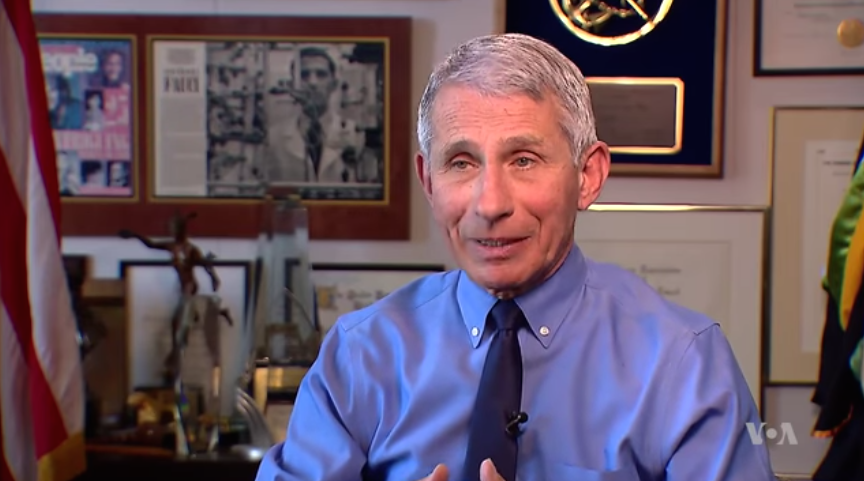 L. Ian MacDonald
November 8, 2020
Joe Biden finally found his voice with a week left in the presidential campaign. And he owed it to Donald Trump, for his unspeakable attack on the character and competence of Dr. Tony Fauci, the most beloved figure in pandemic America.
Responding to Fauci's interview with the CBS program 60 Minutes, Trump called him "a disaster" adding "people are tired of hearing Fauci and all these idiots." The "idiots" serving their country on the White House Task Force on the virus led by Fauci. "If I'd listened to him." Trump said, "we would have had 500,000 deaths." As opposed to the 235,000 deaths and 10 million Americans testing positive under Trump, about 20 percent of global COVID-19 cases in a country with only four percent of the world's population and the richest nation in world history. At a subsequent campaign stop with few masks and no distancing, a rowdy Trump mob yelled a chorus of "Fire Fauci!" Trump said he would think about it, and get back to them after the election.
Never mind that the American president can't fire a public servant like Fauci, who has been Director of the National Institute of Allergies and Infectious Diseases Since 1984. He also holds America's highest civilian honour, the Presidential Medal of Freedom, awarded in 2008 for his research on HIV/AIDs.
It was finally too much for Biden, who had ignored most of Trump's personal insults, and remained in disciplined and lightly scheduled pandemic front runner mode throughout the campaign, with the notable exception of the ridiculous first debate, when he finally told the constantly interrupting Trump to "shut up."
But in Cleveland the week before last, Biden wasn't provoked, he simply told Trump he had crossed the line of decency once too often.
Fire Fauci?
"I've got a better idea," he declared.
Fire Trump instead, he told voters.
"Elect me and I'll hire Dr. Fauci," Biden continued. "I'll hire Dr. Fauci and we'll fire Trump." It was the defining moment of the campaign, which captured the mood of many voters. They were afraid of the pandemic, and fed up with Trump's bungling of it, from denying the existence of the threat in the beginning to "turning the corner" eight months later in a second surge with 100,000 new cases and 1,000 deaths a day during the last week of the campaign.. Not only was he a pathological liar, he was an incompetent crisis manager.
"What if Trump fires Fauci?" former Prime Minister Brian Mulroney was asked a few weeks earlier.
"That'll be the end for Trump," replied Mulroney, who knows a thing or two about turning points on the campaign trail.
And so it was. An election that had been too close to call, and still took four days to call after the polls closed, came into focus.
And having the temerity to blame it on Dr. Fauci, an iconic figure and acclaimed leader, was beyond the pale. Trump also said the election was a "fraud", and being "stolen" by Democrats who found millions of mail-in votes that arrived after the polls closed in states and counties Trump was winning on the live vote count.
Well, more than 100 million people voted by mail or advance poll, nearly two-thirds of the total turnout in the end. Republicans, largely at Trump's urging, voted in person. Democrats were encouraged to vote remotely, in a country under the terrifyingly contagious hold of the virus, and a nation sorely divided between moderate Democrats and reactionary Republicans. Between Democrats who cared about America's leadership role in the world, on the economy, climate change, and a democratic world order, and Trump voters who essentially didn't.
So in the battleground state of Pennsylvania, Trump's in-person voters propelled him to an early lead of 200,000 votes, a margin that would be overcome by Biden's mail-in vote. By Saturday morning, when the networks finally called the state for Biden, he was leading by about 35,000 votes. (By this time, thanks to CNN's John King, exhausted viewers had learned the names of every swing county in the Commonwealth of Pennsylvania,)
Which gave Biden 20 electoral votes and put him and Senator Kamala Harris over the top, past the magic number of 270 votes in the Electoral College, and higher. Because it is the College and not the popular vote that determines elections, with numbers decided by the states, electoral reform is a non-starter in the US. In 2016, Hillary Clinton won the popular vote by three million votes over Trump, but he won the Electoral College 306-232. This week Biden won 74 million votes to Trump's 70 million, both record numbers in the pop-vote, but Biden prevailed by building a Democratic "Blue Wall" in the adjoining swing states of Pennsylvania, Michigan and Wisconsin, and their 46 votes won by Trump in the last election.
So in terms of moral authority, Biden won both the College and the pop-vote, not by a little but by a lot. By enough to silence Trump's false claims of fraud, to make re-counts pointless except in states requiring them in the event of very small margins, and to all but assure that no cases will be decided in the Supreme Court, as the 2000 George W. Bush-Al Gore election was over a few ballots in Florida. Meaning Biden could make the kind of bi-partisan statements he did on Saturday. In mid-afternoon after the networks' late morning call on Pennsylvania, he reached out to the Republicans in Congress and their supporters across America.
"We may be opponents, but we are not enemies," he said, "we are Americans."
By then the word was out and the streets of major American cities filled spontaneously with residents relieved that the divisive ordeal of the campaign was finally behind them. Women, Black Americans and people of colour, immigrants and LGBTQ citizens all had reason to celebrate, as did young voters who've known little joy in the year of the pandemic.
So that by the time Biden and Harris arrived to formally claim victory in the evening, the celebration on stage at his Delaware headquarters clearly fit the national mood. Biden quoted Barack Obama's famous line about there being "no Red states or Blue states, only the United States." And foreign affairs watchers around the world would note that he reached out to them and pledged that America would lead "not only by the example of our power, but by the power of our example."
Getting down to business as promised on the pandemic, he said a transition task force would be announced Monday with a mandate to make recommendation to the new Biden administration on its first working day in office on January 21.
Could be a role there for Dr. Fauci as the promised first hire.
L. Ian MacDonald is Editor and Publisher of Policy Magazine.