Beyond the Election, the China Card
Column / Don Newman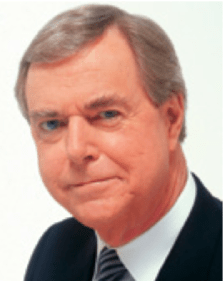 They come along from time to time. Politicians who change the dialogue, change how the political conversation is conducted, whose influence outlasts their time in office and sets the benchmarks against which people then measure success. In Canada two come easily to mind. Pierre Trudeau changed Canada so that no future prime minister would be unable to speak French. One result was that when Trudeau's time ran out, bilingual Brian Mulroney was chosen, in 1983, to lead the Progressive Conservative Party, becoming the only Quebec native to lead that party to two majority governments.
For his part, Mulroney then changed the economic dialogue in the country. Canada had been growing increasingly nationalist economically. Mulroney championed free trade with the United States and won re-election in 1988 election doing so. The Liberals who had opposed free trade and fought against it in the election then became the North American Free Trade Agreement's biggest champions when they formed government in 1993.
Margaret Thatcher changed the political dialogue in Britain when she became prime minister in 1979. Thirty years later, much of the change she wrought still resonates. And in the US, Ronald Reagan upended almost 50 years of American political thinking stretching from the New Deal in the 1930s with the conservative ideas he espoused though didn't necessarily always follow. 
Now we have another American president who has changed the game. Donald Trump is seeking re-election this fall. Whether or not he wins he has impacted the American political discourse in ways that may live on even if he loses to Joe Biden, a more intelligent, more capable and more reasonable successor. 
The fact is that most politicians who change the dialogue arrive at a time when the dialogue is starting to change anyway. In many ways, they are facilitators rather than innovators. Donald Trump has been that in spades, going far beyond where much of the American public has been, but nevertheless advancing familiar themes which have been growing in the American psyche for many years.
So, Canadians shouldn't expect an instant revival of the "special relationship" that Trump has so derided, notwithstanding the negotiating success of the new NAFTA. The capricious tariffs on Canadian aluminum he has imposed to help his re-election effort may not suddenly disappear. And don't expect the American security umbrella to suddenly unfold again across Canada with the anti-ballistic missile system protecting targets in our country as well as the US On missile defence, we will actually have to sign on and pony up a percentage of the cost to be covered.
And most importantly, America-China tensions will intensify. This will have ramifications for the entire world, but particularly for Canada. Trump is building his re-election campaign around confronting China. Canada is already caught in the middle of the dispute, detaining Huawei CFO Meng Wanzhou on an extradition request from the US, while China holds two Canadians—Michael Spavor and Michael Kovrig—seized in retaliation. 
As Canada confronts the challenges of this new world, now is the time for this country to change its political dialogue. It doesn't necessarily take a change in personalities but it does take a change from the "feel good" Canada to the "be real" Canada. China and the US and their disputes provide the first opportunity to do that.
The Meng case is not primarily a legal one as the government has treated it. It is a geopolitical one in which Canada as well as the two principal players have a stake. Beijing is eager to have Meng back and are playing hardball to get her. We should play hardball back. The Chinese don't participate in simultaneous release of people being detained because they think they lose face. Well, this time we should tell them they will have to release the Canadians simultaneously with Meng or they won't get her back. 
If the exchange happens, the Americans will be annoyed. But when the exchange is complete, we will be able to do what we already want to; exclude Huawei from our 5G wireless network as the US wants. That will make Washington happy.
To follow that course would be to make our own foreign policy. Ultimately in a US-China confrontation we are on the American side. But we can try to be on it on our own terms. Whomever wins in the United States in November is going to create challenges for Canada. But if we meet them on our own conditions, that can be a tremendous opportunity as well.  
Columnist Don Newman, Executive Vice President of Rubicon Strategies in Ottawa, is a lifetime member of the Parliamentary Press Gallery.