Beyond Blackface: Repairing the Legacy of Anti-Black Racism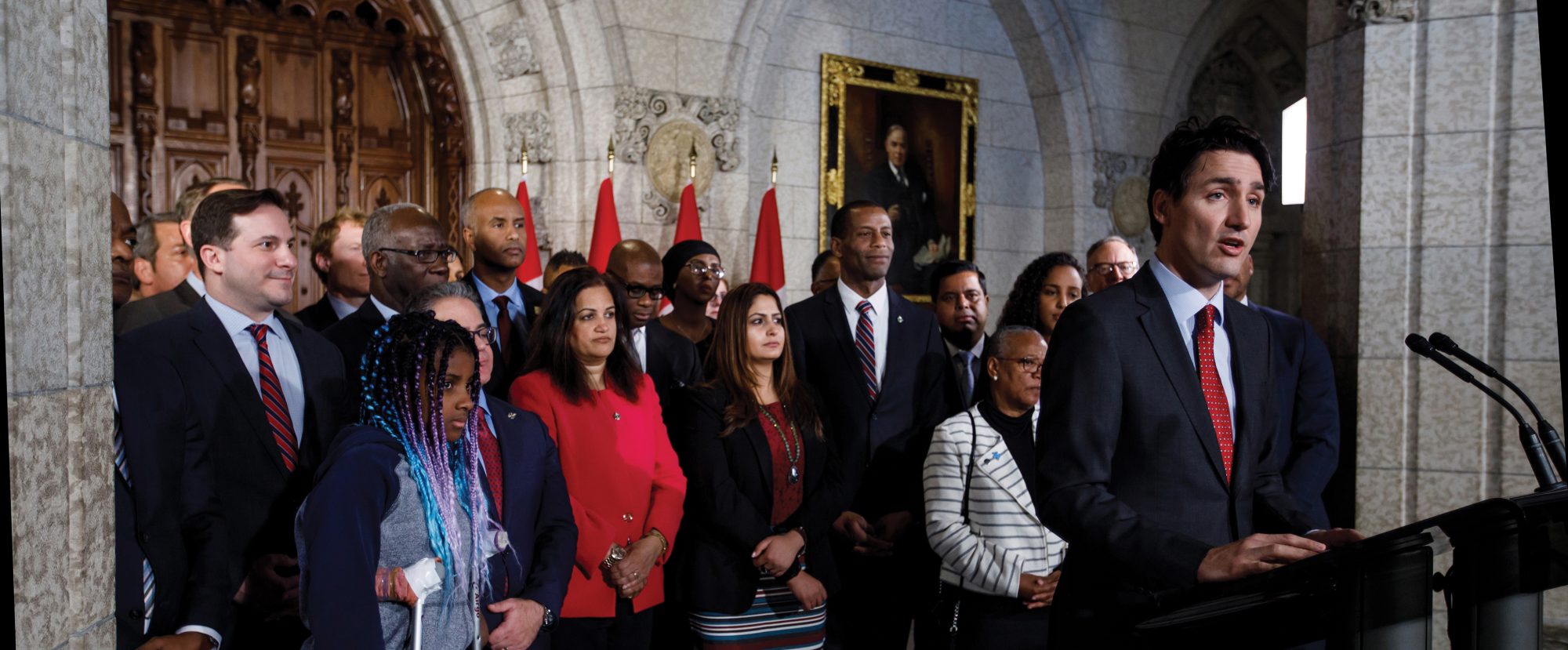 The story of Justin Trudeau's performance history in blackface shook his campaign and generated headlines globally. For Black Canadians, the question of racial justice is much bigger than a single scandal. Halfway through the United Nations Decade of People of African Descent, Liberal strategist Tiffany Gooch writes, the serious work of the Trudeau government should start today.
Tiffany Gooch
When Ahmed Hussen was first elected as a Liberal member of Parliament in 2015, I sang the Sam Cooke classic A Change is Gonna Come at his community celebration in York South-Weston. During his introduction, I said Black Canadians from Southwestern Ontario to Nova Scotia were celebrating, and in many ways we were. The Black Caucus on Parliament Hill was growing in numbers and strength, and it was an exciting time to see momentum building on issues that had yet to receive the political prioritization they deserved.
Black parliamentarians, supported by Black staffers and public servants over the last four years, put forward an intentional effort to partner with and amplify the work of grassroots organizations across Canada advocating for recognition, justice, and development within the context of the United Nations International Decade for People of African Descent. Hussen himself brought forward blind hiring pilot programs and made history as Canada's first Somali refugee serving in the role of minister of Immigration, Refugees and Citizenship — a challenging portfolio in today's global political climate.
What began as an endeavour to ensure Black leaders travelling to Ottawa to attend Black History Month events were able to have meaningful meetings with political influencers became a strategic effort to provide a baseline understanding to all members of Parliament about the realities of anti-Black racism in Canada, the International Decade and opportunities ahead for Canadian participation.
The three-year-late announcement to recognize the UN Decade for People of African Descent was difficult to watch. As it finally happened, the prime minister's speech did not elicit a single member of the media present to ask a question related to the announcement. The disrespect was so glaring I thought there was a glitch in the online feed I was watching. What kind of funding would match this commitment? Why had it taken so long for Canada to sign on to the International Decade? Since we started late, would we consider extending the Canadian recognition of the International Decade past 2024? There was a missed opportunity to hold the government accountable for the promises being made.
It is clear, following the recent federal election, that there is still much work to be done to educate members of Parliament from all parties, the media, and the public about the Black Canadian experience and necessary actions moving forward. As deeply disappointing as it was to see photos of the prime minister dressed in blackface, the discourse of this election served as a powerful reminder of the need to ensure our education systems across the country are equipped (and motivated) to teach Black Canadian history.
The frustration was amplified by those who have never before shown concern about the improvement of the lives of Black Canadians suddenly finding themselves outraged by the scandal of the week.
It was the words of Toni Morrison that put the work ahead back in focus: "The function, the very serious function of racism is distraction. It keeps you from doing your work. It keeps you explaining, over and over again, your reason for being. […] None of this is necessary. There will always be one more thing."
My family found their way to Canada in search of freedom five generations ago. My great-great grandfather, Jeremiah Harris, fought for the Crown in the Upper Canada Rebellion of 1837. My grandfather served our country in World War II only to return to a community where he and his children would face (and fight) racial discrimination looking for work and celebrating said freedom. Change has been a long time coming. With another five years ahead to continue to refine and activate Canada's official recognition of the International Decade, there is an opportunity to reflect on progress toward implementation of ministry-by-ministry recommendations made over the last few years and continuation of the plan to move forward.
There is, of course, no singular solution to dismantling anti-Black racism in Canada. Within the context of the International Decade, I hope to see the federal government continue to engage and consult meaningfully with local Black communities across the country. The roots of this work run deep and activists who have grown it from the ground up should be respectfully joined rather than dictated down to. And while consultation is necessary, it should be understood that from a regional perspective, Canadians are having very different discussions about anti-racism work. While cities like Toronto and Hamilton are carrying out the implantation of local anti-racism strategies, some municipalities haven't even posed the question.
The African diaspora in Canada is remarkably diverse. While there has been a lot of work carried out in recent years to connect the dots between regional and intergenerational movements, there is still much work to be done. A necessary starting point is the collection of comprehensive disaggregated race-based data across government to provide evidence to inform future policy decisions. There is further need for an intersectional anti-Black racism lens to be applied to existing government policies. Among the next steps must be a formal apology for institutional racism in Canada, accompanied by an action plan outlining reforms to the Canadian justice system.
There are opportunities for the minister of Heritage to truly support Black Canadian historical institutions — including Black churches — nationalize Emancipation celebrations, and think meaningfully about how to support the spaces where Black Canadians meet, celebrate, and educate, beyond the month of February. Provincial governments have a role to play, particularly in reviewing and identifying promising practices developed primarily by Black teachers in Nova Scotia and Ontario to improve outcomes for Black students and ensure the curriculum is truly reflective of Canadian Black history.
And as all levels of government take action on gun violence, allocation of funding should prioritize community well-being initiatives over increased police budgets. We should further ask ourselves thoughtfully how much of the proclaimed domestic and international feminist policy shifts are reaching women of African descent.
Canada has an opportunity to take our global leadership to the next level and ensure our actions match our words. I hope we can find agreement across parties to increase our international aid commitments and identify ways to find alignment between our International Decade strategy and Canada's global impact. I also hope that in this fresh mandate, we will see clearly assigned ownership of anti-Black racism work and International Decade recognition implementation, as well as more Black staff in senior leadership roles. Businesses across sectors, post-secondary education institutions, think-tanks, and not-for-profit networks can each identify ways to strategically support this work as well. Following years of advocacy efforts by groups across the country, it's time to see more urgency behind the implementation of these initiatives.
In a statement commemorating the launch of the International Decade, former UN Deputy High Commissioner for Human Rights Flavia Pansieri said: "The road to a world free from racism, prejudice and stigma is rocky. Combating racial discrimination is a long-term effort. It requires commitment and persistence. People of African descent need encouragement and support. Member states have the moral and legal obligation to provide sustained political and financial backing to make the Decade effective and to continue our path toward equal and just societies."
When Canada reports back to the UN on our actions made during our recognition of the International Decade, what will we have to say?
I expect, at least, that the prime minister will not make the same mistake he made in 2015 by omitting Black leaders from his inaugural cabinet while promoting and celebrating its historic diversity. The Black members in his caucus carried out an essential role in both his first mandate and re-election campaign responding to the needs of Black Canadians. Perhaps, over time, through intentional will and follow-through, the prime minister will earn the endorsements that rolled in from Black leaders across North America in the days leading up to the election.
The year 2024 may feel very far away in a minority government situation, but I hope all parties can come to an agreement over what success looks like as Canadian recognition of the UN Decade for People of African Descent continues.
Tiffany Gooch is a Toronto-based Liberal strategist and writer.