An Inauspicious Beginning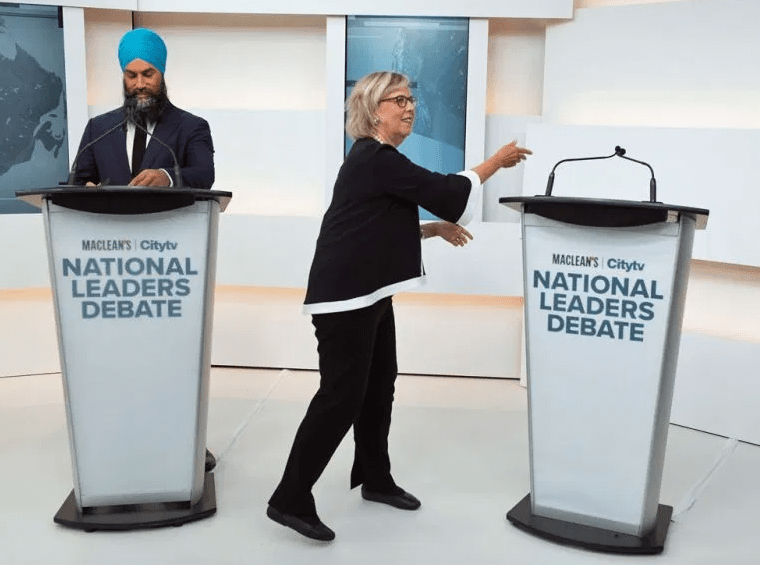 Column/L. Ian MacDonald
Sept. 13, 2019
Just a few days into this campaign, it's not looking like a race for the ages. The parties have launched their campaigns with themes that aren't very memorable.
And in the case of the first televised debate, even less so.
The Maclean's-CityTV debate will be remembered for Liberal Leader Justin Trudeau not showing up. Which didn't prevent the organizers from putting an empty lectern in his place. Green Party Leader Elizabeth May walked over and shook hands, Clint Eastwood style, with an imaginary Trudeau.
Trudeau is also boycotting the Munk Centre foreign policy debate in Toronto on Oct. 1. No one has yet been designated to shake his hand at that.
Prime Minister Trudeau launched his re-election bid amid another SNC-Lavalin drop by the Globe and Mail, this one about the RCMP interviewing former justice minister Jody Wilson-Raybould while allegedly being kept from cabinet information about the case.
Former minister Jane Philpott, who left cabinet in solidarity with Wilson-Raybould, says she would like to waive cabinet confidentiality so she can also speak to the police. For his part, Trudeau told reporters as the election was called at Rideau Hall on Sept. 11 that Ottawa had offered "the largest and most expansive waiver of confidence in Canada's history."
Meanwhile, Conservative Leader Andrew Scheer, flying out from Ottawa to Trois-Rivières for his campaign launch, said Trudeau has lied repeatedly on the case and "lost the moral authority to govern."
Both Trudeau and Scheer find themselves in an awkward posture over Quebec's Bill 21, which bans some senior public servants from wearing religious garb on the job. Scheer won't say anything about it, and won't do anything about it, either, as he's shopping for seats in the linguistic heartland east of Montreal.
For his part, Trudeau deplores the legislation as an abrogation of civil liberties and manifestation of xenophobia. While he said he was "deeply opposed" to Bill 21, he qualified his comments. "At this time," he said at Rideau Hall's drop of the writ, "I feel it would be counterproductive for the federal government to engage in this process."
Trudeau continues to run against the the ghost of Stephen Harper, though Harper's name hasn't been on a ballot since 2015. "Canadians have an important choice to make," Trudeau said Wednesday morning. "Will we go back to the failed policies of the past, or will we continue to move forward?"
Trudeau will be there for the French-language debate on TVA, which so far as it goes should give him a clear advantage on that field.
For the rest, the leaders need to bring something that has been missing—a touch of class.
Ian MacDonald is Editor and Publisher ofPolicyMagazine.