Donald Trump has already undermined America's ability to counter China's influence.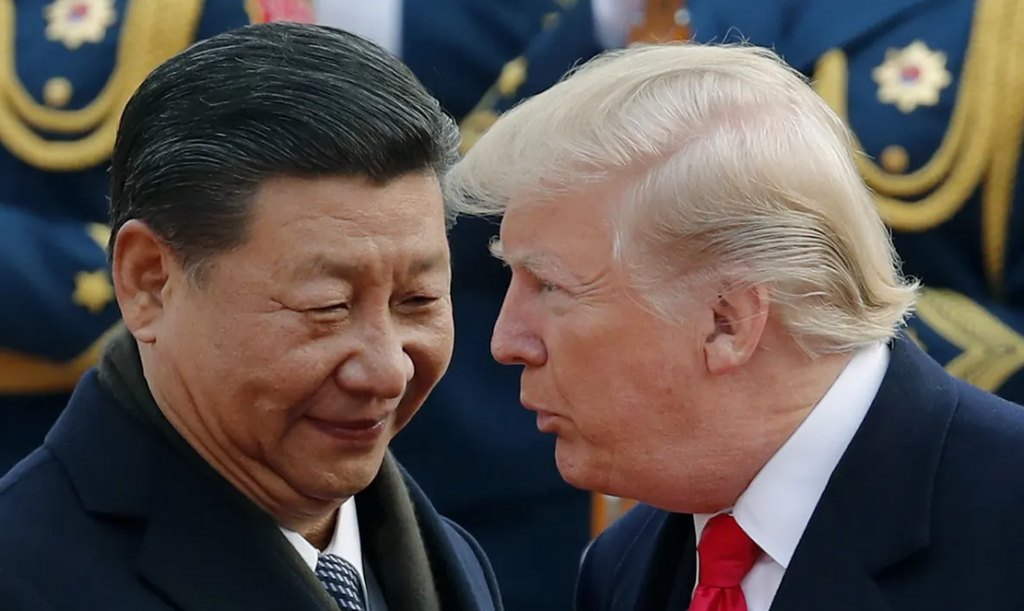 AP
Lisa Van Dusen/For The Hill Times
April 5, 2017
The president of the United States will be meeting with the president of China Thursday and Friday at Mar-a-Lago, the new weekend White House.
That's the face-value lead about Donald Trump and Xi Jinping meeting face-to-face for the first time since Mr. Trump's previously imponderable ascension to the most powerful office in the world. But, as with so much of what Donald Trump does, there's the administration narrative and there are the subtitles based not on tweets and alternative facts, but on the preponderance of empirical evidence from which we can possibly glean the true significance of what's unfolding behind the daily circus.
In the current public state of the relationship between the United States and China, we have, on the one hand, a belligerent president of the United States who seems inclined to be "tough on China" over its $350-billion trade surplus with America, its dumping of cheap steel and its reluctance, so far, to neutralize belligerence and possible nuclear threat from North Korean dictator (or, as John McCain put it recently, "Crazy fat kid") Kim Jong-Un.
On the other hand, we have—what with all the overwhelming anecdotal evidence that the 2016 presidential election may have really been one long, real-life Austin Powers acid hallucination of stunningly overt spy craft, and the fact that this administration seems to view the basic requirements of democratic governance, including the truth, as optional—the lingering suspicion that something is not quite right.
In the case of current U.S. relations with China, the suspicion stems from the fact that, despite Trump's rhetoric on China, he has executed a number of measures that seem to be manifestations of his protectionist, climate-change-is-a-Chinese-hoax, America-first-ism but which actually hugely benefit China both economically and geopolitically. This theory was most recently presented in a column by The New York Times' Tom Friedman last week, subtly titled, "Trump is a Chinese agent," which may or may not have been an example of Swiftian irony, given the kicker. "The only other explanation is that he's ignorant and unread…without any thought to grand strategy," Friedman concludes, "Surely that couldn't be true?"
Measures taken by Trump amid much nationalistic swagger and aggressive tweeting that actually benefit America's geopolitical rivals include: the effective torpedoing of the Trans-Pacific Partnership trade deal, a move that forfeits U.S. economic influence in Asia; a rollback of U.S. leadership on climate change so flagrant it actually included the use of coal miners as human props; and the extermination of American soft power through the political marginalization and proposed financial embolization of the State Department.
Meanwhile, America's traditional role as the indispensable nation that could exercise moral suasion on questions of rights and democracy with the economic and military leverage to back it up has been compromised by a post-truth messenger presiding over a cavalcade of daily inanities in a world where power has been redefined by borderless cyber-operations and interests, apparently, are murky.
Will human rights — including the surveillance-enabled harassment and jailing of journalists, lawyers and activists, the surveillance-enabled harassment of Tibetan community leaders and cultural figures, the crackdown on NGOs, for starters — be raised at Mar-a-Lago? Probably not by a leader who values stability, order, and control over liberty, and sees democracy as an existential threat. And probably not by one who defines journalists as enemies of the people.
At the World Economic Forum in Davos in January, President Xi reportedly stole the show with a keynote that presented China as the free-trading, climate change-innovating, globalist among major powers and himself as the open, sophisticated grown-up at the table. "As the Chinese saying goes," he said, "people with petty shrewdness attend to trivial matters, while people with vision attend to governance of institutions."
It's a reassuring, if incomplete, narrative. And it wouldn't have seemed plausible at any other moment in recent U.S. history.
Lisa Van Dusen is associate editor of Policy Magazine and a columnist for The Hill Times. She was Washington bureau chief for Sun Media, international writer for Peter Jennings at ABC News, and an editor at AP in New York and UPI in Washington.