The murder of George Floyd by a Minneapolis police officer on Memorial Day provoked global outrage and a popular uprising for racial justice. We've gathered a selection of commentary on this ongoing story and the Black Lives Matter movement.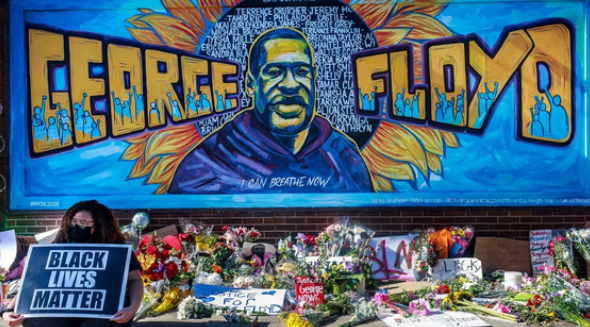 "If his death ends up changing the world for the better – and I think it will, I think it has – then he died as he lived. It is on you to make sure his death isn't in vain."
– Brother of George Floyd, Philonise Floyd

"Until we see accountability from police, people will continue to feel forced to take the law into their own hands. Until we see reactions of non-violence from police towards Black people, we will continue to see violence erupt, mirroring systemic violence."
– Senator Wanda Thomas Bernard
"It is shocking, it is disturbing, it is quite painful to watch that video … I have three young boys, my oldest son is 10 years old and I still have not had the strength to have the conversation with him. How do you explain to a 10-year-old boy, growing up as a young black boy in Canada, that — how do you explain those images? That footage to him? That the very person who was supposed to keep someone safe is engaged in a slow-motion death of an innocent black man?"
– Somali-Canadian Families, Children and Social Development Minister Ahmed Hussen
"So, maybe the black community's main concern right now isn't whether protesters are standing three or six feet apart or whether a few desperate souls steal some T-shirts or even set a police station on fire, but whether their sons, husbands, brothers and fathers will be murdered by cops or wannabe cops just for going on a walk, a jog, a drive. Or whether being black means sheltering at home for the rest of their lives because the racism virus infecting the country is more deadly than COVID-19.
What you should see when you see black protesters in the age of Trump and coronavirus is people pushed to the edge, not because they want bars and nail salons open, but because they want to live. To breathe."
– Athlete and Author Kareem Abdul-Jabbar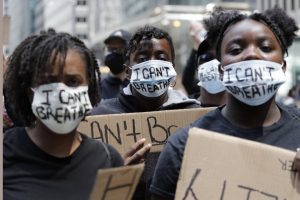 "When you see somebody who looks like you being killed like that, it makes you feel like you have no worth and no value. It makes you angry. And I speak as an ally who has felt the painful words and the physical violence of racism."
– NDP Leader, Jagmeet Singh
"It's a long time, eight minutes and 46 seconds. It's a long time to be on one knee. But for 244 years, there were plenty of knees on the necks of Blacks who came to this country."
– U.S. Democratic House majority, Whip James Clyburn
"The police will continue to remain a threat to the lives of Black and Indigenous communities unless we acknowledge the larger narrative of a colonial paradigm. Whiteness throughout history and still today, has provided the lens through which all institutional structures were built. Law enforcement in a society where Black people's existence cannot be separated from the role of 'other', is a contemporary manifestation of how governments have used violence to subjugate Black and Indigenous communities for centuries."
– Assistant Professor of the McGill School of Social Work, Alicia Botswain-Kyte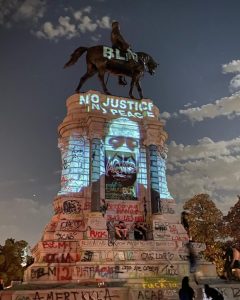 "Racism is more in your face in the U.S., and I feel like here (in Canada) it's insidious and it intrinsically hides into our policies, into our legal system, into all of our infrastructures. We have just as much work to do in our own backyard, and this lie, this narrative that things are so much better here, it's a form of racism. It's a form of blindness."
– Montréal-based dancer, Lauren Jiles
"We all watch in horror and consternation what's going on in the United States. It is a time to pull people together, but it is a time to listen. It is a time to learn what injustices continue despite progress over years and decades. But it is a time for us as Canadians to recognize that we, too, have our challenges. That black Canadians and racialised Canadians face discrimination as a lived reality every single day. There is systemic discrimination in Canada, which means our systems treat Canadians of colour, Canadians who are racialised, as differently than they do others."
– Prime Minister of Canada, Justin Trudeau
"So we are facing in this pandemic, two dangerous, invisible viruses. One is COVID-19, and the other we've tolerated far too long, which is race-based hatred, hate speech, and anti-black racism. And yes, black lives matter, I want to just do nothing but chant it in this place till we all stand together and say, 'black lives matter.' What we're seeing in the murder of George Floyd, exactly as my colleague from the Bloc Québécois said, 'not a victim, but another victim. Victims after victims after victims.' We must not forget their names."
– Green Parliamentary Member, Elizabeth May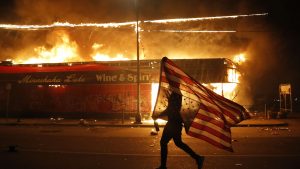 "This is an issue that has been happening for many years; this is an issue that continues to happen. It's not about just having these conversations. We need to start putting practices in place where we can dissolve these situations that continue to happen. [Being Black in Ottawa], it is very tough. It's mentally tough, it's socially tough. In the last two days, I've been speaking to a lot of community members, particularly a lot of black men, who are scared, frustrated, uncertain of their future just because of this continuous play-out of the disregard of black bodies within this white, settler, Canadian nation-state, very similar to the United States."
– Doctorate Student of Carleton University, Warren Clarke
"We must reject any thinking of our cities as a 'battle space' that our uniformed military is called upon to 'dominate.' At home, we should use our military only when requested to do so, on very rare occasions, by state governors. Militarizing our response, as we witnessed in Washington, D.C., sets up a conflict — a false conflict — between the military and civilian society."
– Former U.S. Secretary of Defense, Jim Mattis