A Tale of Two Responses: Canada-U.S. Neighbouring in the time of COVID-19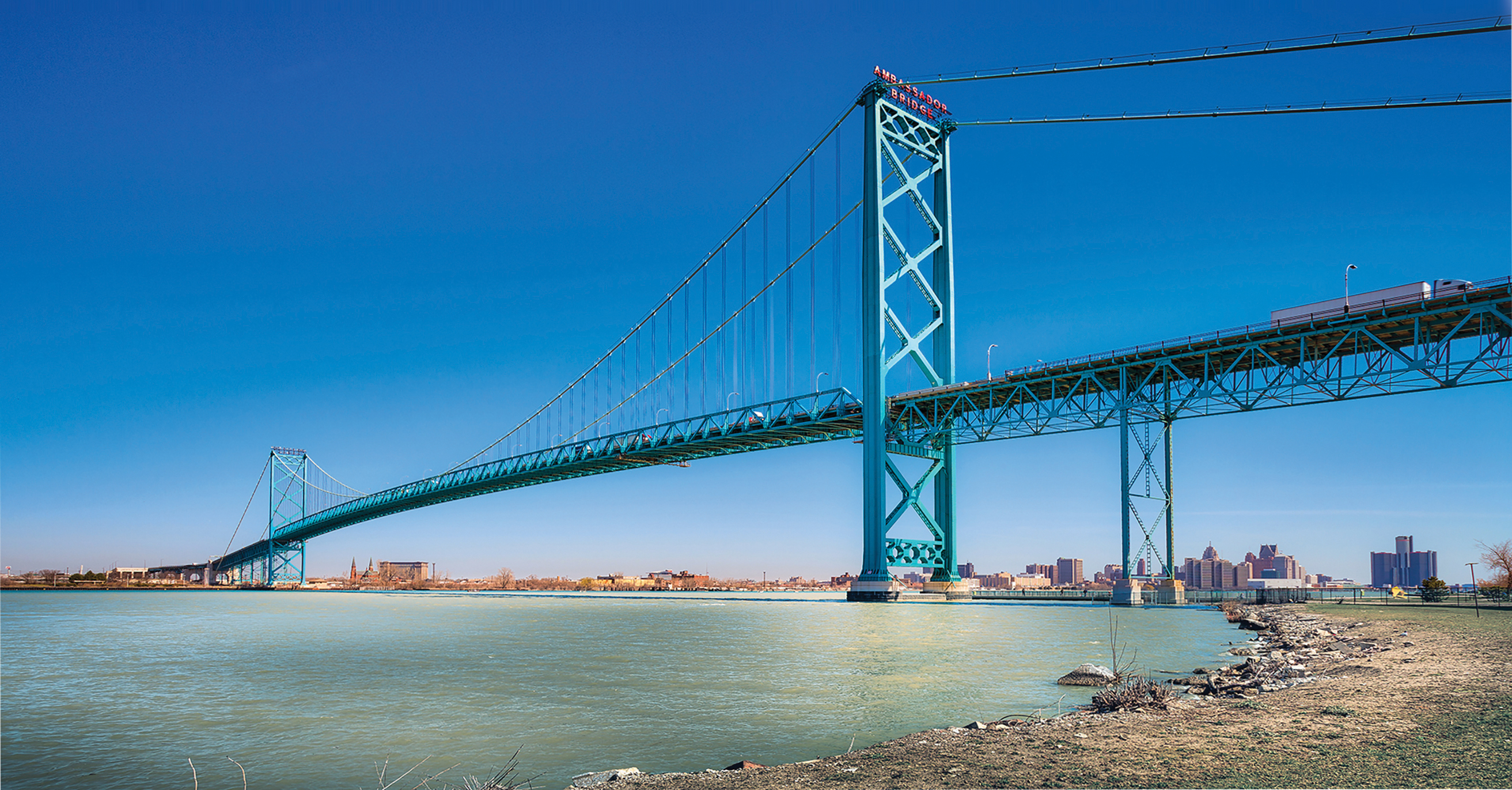 The relationship between Canada and the United States—our similarities our differences, our interests and irritants—can and has filled scores of books, studies, memos, briefings, podcasts and postcards. But no presidency in history has challenged the bilateral dynamic as much as Donald Trump's has, and no crisis has challenged the Trump presidency as much as this pandemic. 
Helaina Gaspard and Valencia Gaspard
Growing up in Southern Ontario near the border with Detroit, Michigan, we constantly compared ourselves to the United States. Their presidents had more international presence and sway, but we had better social programs. The local news would report the weather in Fahrenheit because that's what everyone used, even though we were taught Celsius at school. Even with the lower value of the Canadian dollar, the shopping trip across the border was always worth it because the volume, value and variety of goods was always better there.
Make no mistake, we were and are proudly Canadian, but there was a constant and proximate comparison at the doorstep and in our daily live.  Our uncle Tony would take us to the company box for the Red Wings games, because his company was Detroit-based. And our family would fly out of Detroit Wayne County (DTW) airport (even to some Canadian destinations) because it was closer than Toronto's Pearson Airport. 
As sisters, growing up in Southern Ontario, Detroit was down the street in the next neighbourhood. The border's porousness was convenient and largely unnoticeable, until it was not. Without question, 9/11 was a cruel reminder that borders exist, and they can harden in an instant. While we now call Ottawa home, the borderless COVID-19 pandemic gave us reason for reflection on the border and that constant comparison of our childhoods.
This time, however, what's on our minds is twofold: calm from the centre and coordinated responses with collaborative action. Federalism in Canada and the United States has expressed itself differently in response to COVID-19. 
While each country's states and provinces enjoy latitude across a number of policy areas, Canada's national coordination through the existence of legislatively defined standards in health (Canada Health Act) and basic fiscal equity (Equalization), favour coordination and collective action. 
By contrast, while the United States may have national social policy in areas such as education, the operationalization of the legislation in practice is less cohesive. These differentiated expressions have led to different actions from the national governments and coordination with their state and provincial governments. The comparative management of the COVID-19 crisis is a case in point.   
No matter how you vote, one can only appreciate the calm daily briefings from Rideau Cottage. Prime Minister Justin Trudeau, his cabinet and crisis team have proven themselves to be steady hands charting a course in uncertain waters. Surely, history will identify missteps that could have been avoided and actions that could have been taken sooner, but for now, Canada appears to be managing the crisis.  (This is not to downplay the pain of the thousands of families who have lost loved ones, those who are suffering with illness, and struggling with financial and business challenges, as well as the sacrifices of those serving on the front lines).
Canada's response and actions are bolstered by higher levels of trust in our government and institutions that other countries do not enjoy. And perhaps, we'll be a little less begrudging at tax time because we are watching our tax dollars at work in real time.
In the United States, we have witnessed a series of missteps and misstatements as the country grapples with the crisis. From accusing China of taking advantage of the U.S., to blaming the Obama administration for this "full scale disaster," to claiming that the United States outpaced South Korea's COVID-19 testing, the misinformation and confusing messaging from the Oval Office is echoed in the lack of consistency and coordination in responses across America. 
President Trump has accused hospital staff of stealing personal protective equipment (PPE), suggested no one really knows what the virus is, and assured Americans the pandemic is going to disappear. Trump has also taken to Twitter to antagonize General Motors and accuse them of "wasting time" and trying to "rip off" the government while the company committed to making ventilators. Suffice to say that the president's approach has been neither calm nor confidence-building.  While there have been some improvements, Americans are paying for the chaos of their national government. 
The fact remains that Canada is not getting through this pandemic without the United States. When President Trump tried pulling back 3M's exports of millions of N95 respirator masks to Canada, Prime Minister Trudeau and Deputy Prime Minister Chrystia Freeland were quick to publicly remind Canadians and Americans of the thousands of nurses and health workers from Windsor serving Detroit, the fifth most- infected metro area in the U.S.
For his part, Ontario Premier Doug Ford pulled no punches when he declared he was "deeply disappointed" by Trump. As Ford put it unambiguously at his daily briefing: "They cut out part of the family," adding, "never again are we going to rely on another government." In the end, after Freeland's back-channel conversations with U.S. Trade Representative Robert Lighthizer, whom she came to know well during the NAFTA talks, 3M was allowed to resume its shipments to Canada.
There was also the not-so-subtle mention of the Canadian pulp used by American companies to make surgical grade masks. The people and products that cross the border daily are stark reminders of how closely intertwined our two countries really are, even when our approaches in managing the same crisis differ. 
There has been a rallying of federal and provincial efforts in Canada. In mid-April, Premier Jason Kenney of Alberta announced he was sending $41 million of surplus PPE and resources to his eastern counterparts, as well as British Columbia. "We are all in this together," he said. "Not only as Albertans but as Canadians." Quebec Premier François Legault, facing a PPE shortage, tweeted: "Thanks for your help, Jason." It was a long way from Alberta and Quebec feuding over pipeline routes.
A once-combative Premier Ford in Ontario is now praising the federal government, particularly the PM and Deputy PM (he himself has emerged as a calm and persistent leader in the face of the pandemic).  The pandemic has hit hard in Quebec, Ontario and B.C., with major economic ramifications for Newfoundland. Premier Dwight Ball openly wrote to the federal government about the major financial challenges the province will be facing and the need for immediate federal action. The bottom line, however, is that premiers have taken the pandemic and its multiple facets, from health and economics, seriously, and have responded accordingly. The same cannot be said of all of the United States.  
The reactions of states to the pandemic have varied, with two broad camps of governors emerging: those acting decisively and those who have dithered (or worse), some mirroring Trump's dithering and inconsistency. 
While Ontario and Ottawa are collaborating, Michigan and Washington, D.C. are sparring. There are more confirmed cases of COVID-19 in Michigan than there are in all of Canada, and more people have died there than across this country. Michigan Governor Gretchen Whitmer criticized Washington's response to COVID-19, alleging that the Trump White House "did not take this seriously early enough." As matters worsened in Michigan and requests for federal support through equipment were made, Trump instructed Vice-President Mike Pence to not, "call the woman in Michigan," as she was not "appreciative" of his efforts. Striking a conciliatory tone, Governor Whitmer stated she was willing to work with anyone who could provide Michiganders with the equipment needed to fight the virus.   
Governor Andrew Cuomo of New York comes to mind as an example of a leader who has had to compensate for a lack of federal support and action. A positive Financial Times profile in early April was a testament to his work. Louisiana, which is much poorer and less equipped than New York, has drawn on its past experiences of rebuilding after Hurricane Katrina. Governor John Bel Edwards has transformed existing infrastructure into the public health support sites required.
By contrast, Florida has been slow to act, following Trump's advice. Florida, for instance, adopted legislation declaring the Florida State University Seminoles the 2020 NCAA basketball champions by default, upon the cancellation of the NCAA tournament due to concerns raised by the spread of COVID-19. And yet, Florida appears to receive the health equipment it needs as soon as it's requested; a luxury that New York, which has the highest rates of infection and death in the country, and Michigan, which is also struggling, do not enjoy. With the upcoming presidential election in November and the state dominant math of the Electoral College, swing states such as Florida take on increasing importance for Trump's campaign. 
To be sure, it is far easier to coordinate among 13 premiers and territorial leaders with manageable population sizes, and some basic standards thanks to Equalization and the Canada Health Act, when compared to governors of 50 states with significant variance in wealth, education and polarized political views. But that is no excuse—the world's largest economy has a death toll higher than Italy's and climbing. Sub-national governments can be laboratories for differentiated action and distinct policy responses that meet the needs of their populations. The challenge, however, is when closely connected territories do not act in a broadly coordinated fashion to respond to a challenge that does not recognize their borders.
There are substantive differences in response, management and action from Canada and the United States. While there has been important and regular cooperation between the two neighbours (most of it unseen), public attention has focused on the terse comments and exchanges between the world's two largest trading partners, who share the longest unmilitarized border.
Not for nothing do Canada and the United States conduct and manage a $2 billion-a-day relationship, with millions of jobs in each country, relying on smooth and seamless passage at the border. In the auto industry alone, in the Windsor-Detroit area, countless vehicles cross the border six and seven times during their assembly. 
As we're reflecting on the comparative calm, coordination and collaboration of Canada's response to the pandemic, George Grant's Lament for a Nation seems unnecessary and outdated. Rather than being subsumed by the elephant that is the United States, Canada is perfectly comfortable being the polite beaver adapting its strategy to meet its changing environment.  
Helaina Gaspard is Director of Governance and Institutions at the Institute for Fiscal Studies and Democracy (IFSD), at University of Ottawa, where she completed her doctorate.
Valencia Gaspard, a public servant in Ottawa, holds a doctorate from University of Guelph and is an Adjunct Professor at University of Saskatchewan.