A Diplomat's Worst Nightmare: The Trump Presidency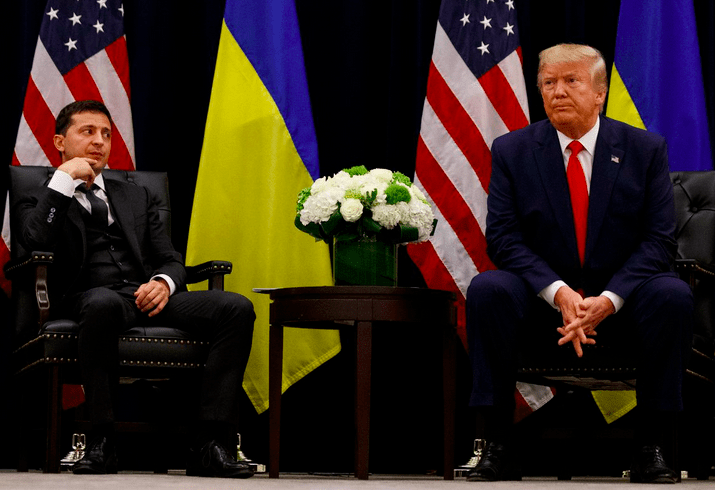 Getty
Jeremy Kinsman
Nov. 13, 2019
Watching the public hearings on the impeachment of Donald Trump is worrying on many levels, but for a career diplomat, it's sickening.
As a long-time Canadian Foreign Service officer and former ambassador to Russia, the European Union and the United Kingdom, among other postings, I feel gutted over the excruciating position that U.S. diplomats on duty in Kiev and Washington were put in during the Trump shakedown of Ukraine. The not-only politicized but corrupt back-channels, the previously unthinkable judgment calls, the conversations you wish you'd never heard much less been a part of: short of avoidable loss of life, the Trump doctrine on foreign affairs is pretty much a diplomat's worst nightmare.
Acting Ukraine Ambassador Bill Taylor was obviously not one of the "amigos" — Energy Secretary Rick Perry, major Trump donor and EU Ambassador Gordon Sondland and Special Envoy to Ukraine Kurt Volcker — the small cabal of operators who were pursuing on Donald Trump's political behalf the bullying of a vulnerable and dependent ally in order to get political dirt on a Democratic rival back home. Taylor and his predecessor, Marie Yovanovitch were kept out of the connivers' plot-loop. Indeed, Yovanovitch was summarily removed from her post because her rigorous attention to the anti-corruption emphasis in U.S. mentoring policy toward Ukraine was inconvenient to Trump and some of his sidekicks, who were trying to get the Ukrainian leadership to investigate Trump's domestic enemies, or at least to say publicly that they were doing so.
Taylor, Yovanovitch and Deputy Assistant Secretary of State George Kent were, of course, doing their jobs precisely as defined in the U.S. system and indeed those of most democracies. America's representative democracy is constructed on the notion of the separation of powers. The State Department's officers are part of the executive branch but they are also part of the system of checks and balances. U.S. ambassadors are nominated by the President but need independent confirmation from the Senate.
That recourse to congressional accountability is a reminder that in addition to serving elected presidents, State Department officials abroad represent the country at large, its people, its ideals and its values. The job of career diplomats through successive administrations entails conveying those values, including the rule of law, especially in countries in transition to democracy, such as Ukraine.
It's not only the job of diplomats. For years, U.S. military assistance programs have included instruction on the mandate of the military in a democracy: to be outside politics, to serve the people and not just the commander-in-chief. These programs were vital for the behavioural renovation of armies of countries trying to transit from communist regimes in the 1990s.
Ukraine's post-Soviet path from its landmark democratic election and independence referendum of 1991 to its Euromaidan revolution of 2013-14 and Russia's retaliatory annexation of Crimea put it in a special category of diplomatic focus for the United States and, for that matter, Canada. Amid Russia's expansionist guerrilla war in eastern Ukraine, U.S. military support became more vital than ever, in this case with the hard means of self-defence. Yet, military aid was withheld until the new president, Volodymyr Zelenskiy, who was elected to end corrupt, dirty politics in Ukraine, would agree to help Trump fuel corrupt, dirty politics in America.
This drastic inversion of America's message to Ukraine cannot be overstated. The whole tawdry show of presidential ego and moral emptiness confirms that there is today a corruption in the White House every bit as corrosive as the "cancer" John Dean observed was eating away in Nixon's presidency in 1973.
In a healthy democratic government, honest officials can and do oppose the emergence of bad policy ideas and pursuits. In private, in confidence, such advice, including from senior diplomats, is delivered from a sense of duty. It is normal.
In the U.S. today, such officials are normally shut out of the personalized presidential policy process that derides their expertise, ignores commitments to allies, and takes no account of wider and specific realities. These professionals of sterling reputation never expected they would one day have to testify publicly to the truth of what they witnessed and experienced in an attempted shakedown of Ukraine's new president. It is outrageous that they will almost certainly undergo assault of their motives and reputations by Donald Trump's attack corps in Congress and in the media as a consequence.
Hopefully, most Americans will recognize them as dedicated professional guardians of the country's influence and reputation. That they are bravely speaking out is a service to the values they have represented all their working lives. It also offers some reassurance to America's shocked and sickened friends and partners abroad, who hope this sorry story is just one bad act in America's epic narrative.
Still, it is a sad state of international affairs.
Policy Magazine contributing writer Jeremy Kinsman is a former Canadian ambassador to Russia, Italy, the U.K. and the EU. He is a distinguished fellow of the Canadian International Council.